OpenVPN Cloud is now CloudConnexa™ — learn more here.
Do you have an old smartphone lying around? Don't recycle it or trade it in for a new one for a paltry sum! You can turn it into an Internet Protocol streaming security camera (IP camera) and view the live video stream from anywhere for free. You may get more value from repurposing your smartphone as a security camera than the trade-in value of your old phone. This blog post provides a step-by-step guide to upcycling your old phone.
Components of the Solution
There are three main components involved in converting your smartphone into an IP streaming security camera that can be accessed securely from anywhere. They are:
1. Smartphone
The Android or iOS phone provides the camera, operating system, and computing resources to run the streaming application.
2. Streaming application
You'll need an application on the smartphone that functions as a Real Time Streaming Protocol (RTSP) server to capture the video feed from the smartphone's camera, convert it to a video stream, and serve that stream to connected devices on the internet. (For those who may not know, RTSP is a protocol used to stream live video and audio over the internet.)
3. Secure network connectivity service
Your smartphone is connected to your home WiFi network. This network cannot be directly accessed from the internet. We need the means to securely and easily connect to the RTSP server running on the smartphone. This is where our service, Cloud Connexa, comes in.
The smartphone creates an always-on secure tunnel to one of the 30+ Cloud Connexa locations worldwide. Cloud Connexa facilitates authentication, secure connectivity, and routing so that you can view the live stream on a device from anywhere. In order to make connections to Cloud Connexa, the smartphone and the device used to view the video stream need to be running our Connect Client software. When the client runs on a device and provides access to applications by creating an unattended always-on connection, that device is called a Connector. 
The illustration below shows the smartphone connected to a location in the NY/NJ area while you are connected from a hotel to a Cloud Connexa location in the Los Angeles area.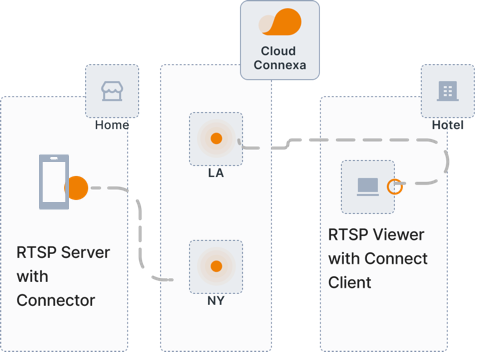 Turn Your Old Phone Into a Security Camera: A Step-by-Step Guide
Here we go! Follow these steps to breathe new life into your smartphone.
Step 1: Install an RTSP server on your smartphone.
Search the app store on your smartphone using "RTSP server" as the search query. Chances are you will find a few free and paid apps. For my iPhone 6 iOS version 12.5.6, I used the free version of Periscope HD. For Android, the RTSP Camera Server Pro app may serve the same purpose.
Step 2: Check that you can connect to the stream.
Before you try to access the video stream from outside your WiFi network, check that it works when you are connected to the same WiFi network as your smartphone. To view the video stream, you need a video player that understands RTSP and the URL being used by your smartphone to serve the video stream.
To find the RTSP URL on the Periscope HD app, select Settings . On the RTSP Camera Server Pro app, the URL is displayed right on the screen. The URL you see should be something like this: rtsp://192.168.1.161:8554/live.sdp.
While there are many free RTSP players, the VLC media player is one of the best ones out there. Install the VLC media player on the device that you want to watch the video stream on. Once installed, follow the steps below to watch the live stream:
Open VLC media player, and navigate to Media > Open Network Stream.
Enter your RTSP URL into the open field.
Press Play.
Voila! You should be able to see the view from your smartphone's camera. Now that this works, follow the other steps to watch the video stream from anywhere, any time — not just when you are connected to your home WiFi network.
Step 3: Sign up for CloudConnexa at openvpn.net.
Cloud Connexa has a pricing plan that comes with three free connections; no credit card is required to sign up. So go ahead. Sign up, and create your Wide-area Private Cloud (WPC) today.
Step 4: Configure the streaming camera as a Host.
You have now converted your smartphone to a server (RTSP server) that needs to be accessed securely from the internet. Next, we need to connect this server to the Cloud Connexa WPC as a Host.
To do this, log in to the administration portal, and add a Host. Provide it with a name and a domain name (camera.home.local). Select one of the Regions closest to your home for the Connector. Select Other for the Connector type during deployment, and then click Next until the setup wizard finishes.
Now, go to the Connector tab of the configured Host, and download the profile in .ovpn format from the Deploy options. Save the .ovpn profile file, and transfer it to your smartphone.
For visual guidance, take a look at this tutorial.
Step 5: Install the Connect app, and import the Host connection profile.
Install the Connect app on your smartphone, import the Connector profile from the prior step, and connect. Now, your RTSP server is part of your WPC and can be accessed from any other device that is connected to your WPC.
Step 6: Restrict internet access from your smartphone.
To tighten security and ensure that the smartphone is not sending any unauthorized traffic to the internet, set the internet access for the Host to restricted internet. Now, you can be assured that no app is sneakily sending your video feed or other data to any unknown servers on the internet.
Step 7: Install the Connect app on the viewing device.
Install the Connect app on the device one which you previously installed the RTSP viewer (VLC media player). Import the profile by choosing a Cloud Connexa location near you, and connect. (You'll find these steps in the Administration portal under Documentation > Get Connected).
To access the smartphone using the WPC, you will need to change the RTSP URL by replacing the IP address with the domain name configured for the Host (camera.home.local). For example, rtsp://192.168.1.161:8554/live.sdp will become rtsp://camera.home.local:8554/live.sdp.
Add a new Network stream, with the RTSP URL that uses the domain name, to your VLC media player, and you should be able to view the live video being streamed from your smartphone.
Congrats! All that's left to do now is boast about your resourcefulness at your next cocktail party.
Advantages of Using CloudConnexa
You now have a secure means to access your video stream without having to use a public static IP address, mess around with firewall settings, and expose your home network to the public internet.
There is no third party involved; no one else has to access your video before making it available to you. You don't need to subscribe to a service just to watch your live video stream.
Locking down your smartphone to stop all internet traffic generated by your smartphone ensures that your smartphone acts as a true dedicated IP camera. The only people viewing your video are you and other authorized users.
Enjoy convenient access to your server with a domain name. It doesn't matter whether you power cycle your phone or connect it to a different WiFi network.You can always access the live stream with the configured domain name.
There is no need to set up a DMZ (demilitarized zone) on your home router to allow incoming connections to the smartphone. The smartphone makes an outbound connection to your WPC.
You are in control of providing secure access to your new streaming IP camera. You can add as many users to Cloud Connexa as you like. Cloud Connexa plans are based on simultaneous connections, so as long as no more than two of your users connect to Cloud Connexa at the same time, the free plan will prove adequate.
As a bonus, whenever you are connected to Cloud Connexa, you can protect yourself from malware, phishing, and other cyber threats by turning ON Cyber Shield Domain Filtering.
Get Started Today
OpenVPN® is the market-proven leader in secure virtualized networking. Our cloud-based platform enables organizations to maintain secure communication between their distributed workforce, IoT/IIoT devices, and the online services they rely on daily. Built on the market-proven OpenVPN protocol, the solution combines advanced network security, encrypted remote access, and content filtering into a virtualized secure network that provides the best of VPN and ZTNA security.
With over 60 million downloads of our core open source software and over 20,000 commercial customers, OpenVPN is recognized as a global leader in secure networking.
Ready to take your business to the next level with Cloud Connexa? Work from anywhere and from any device with confidence. Create an account today for three free connections and the secure network connectivity your business needs.