OpenVPN Solutions
Secure IoT Communication
The Internet of Things now spans nearly every corner of our virtual world — which means the attack surface on your network is higher than ever.
Challenges
Every connected IoT device introduces a variety of data loss and network security vulnerabilities. Have you established secure connectivity across your IoT environment?
Protecting against cyber attacks
With so many connected
IoT devices
online and more coming every day, the
attack surface
is growing exponentially and putting every organization at enormous risk.
Stopping eavesdropping on IoT communications
IoT devices deployed in an open environment — e.g., mobile and distributed point-of-sale systems transmitting financial data — need to be secured against eavesdropping.
Ensuring IoT device interoperability
The variety of
IoT devices
in your environment run on different operating systems, creating interoperability and security challenges.
Verifying IoT device authenticity
For all of the devices connecting to your network, you need to know whether they can be trusted as the devices you're expecting.
Feature-Rich Solutions for Secure IoT Communication
Cloud Connexa supports every major device operating system to provide extensive interoperability across the emerging IoT landscape. You can easily create a separate private network for all IoT devices, or separate groups of devices through access control.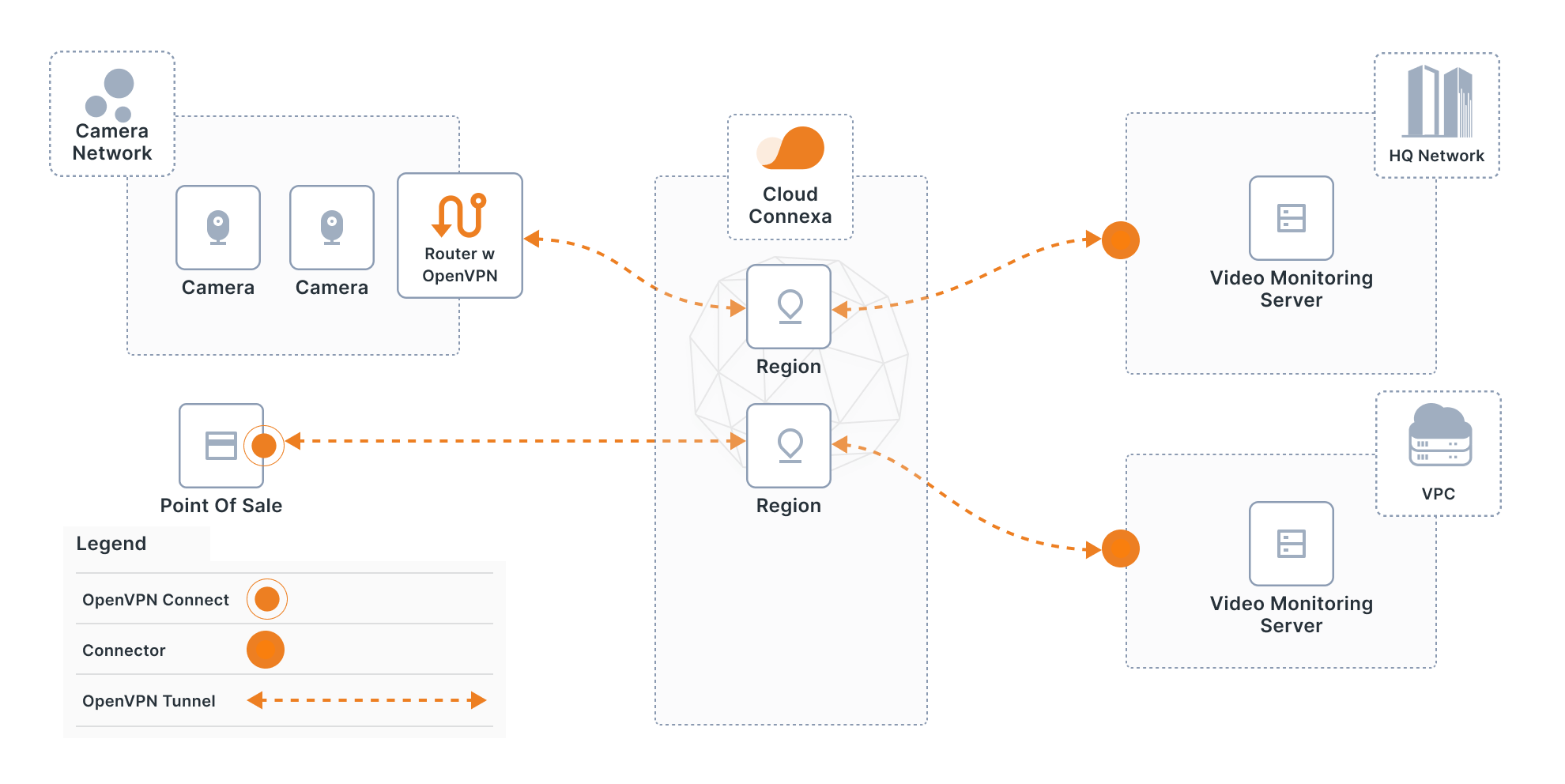 Cloud Connexa gives you the ability to:
Authenticate and encrypt all connections between Cloud Connexa and IoT devices and routers, with digital certificates, to establish a private communication channel. Virtual private connection requests for unattended routers and IoT devices are authenticated by a digital certificate without any need for manual user intervention.
Configure different IoT networks to securely connect to the closest Cloud Connexa Regions (points of presence) for optimal network performance.
Use the OpenVPN Connect app and tap into the open source Community Edition for enhanced flexibility and compatibility.
Reach the device using a persistent IP address that is assigned to it on connection irrespective of the Cloud Region used.
Connect multiple networks and devices in spite of overlapping IP addresses by configuring distinct domain names.
Results
Easy setup with compatible router
Solution for overlapping IP subnets
Isolated, secure IoT networks
Persistent IP addresses
Start using Cloud Connexa
free with 3 connections
.
No credit card required.
Create a secure virtual network to protect all traffic shared by your IoT devices. Access Server gives businesses of all sizes the enterprise-grade encryption, security, and reliability to support their growing IoT environment affordably.

OpenVPN Access Server gives you the ability to:
Create an encrypted secure virtual network that protects devices against eavesdropping and isolates your IoT network from other business networks and the public internet.
Set up auto-login credentials for unattended devices, and routers supporting those devices, to provide always-on secure private connections with mutual authentication and digital certificates.
Establish multiple convenient and secure connection methods for all devices running virtually on any OS, for maximum interoperability and flexibility.
Restrict device access by creating a MAC address whitelist, ensuring unknown devices are unable to access your network.
Results
Easy setup with compatible routers
Extensive operating system support
Isolated, secure IoT networks
Always-available connectivity
Start using Access Server free with 2 connections.
No credit card required.
Available for Red Hat Enterprise Linux, CentOS, Ubuntu, or Debian directly from our official repository. Download as a virtual appliance, or launch from a public cloud provider like
AWS
.