OpenVPN-as-a-Service / OpenVPN Cloud
No Servers Required. Free to Connect.
Introducing OpenVPN Cloud, our next-generation private networking solution. Our OpenVPN-as-a-Service solution eliminates the need for VPN server installation — now you simply connect to our hosted service with regions around the globe.
OpenVPN Cloud comes with three free connections and access to all our premium features.
A Managed Cloud Solution
A managed service that provides secure networking, over the Internet, between private networks and remote users in the form of a "Private Network in the Cloud."
Worldwide secure access, with constant protection against cyber threats and quick full-mesh connectivity to on-premise or IaaS Cloud private networks is now available without the capital and operational hours required to manage, scale and host VPN servers.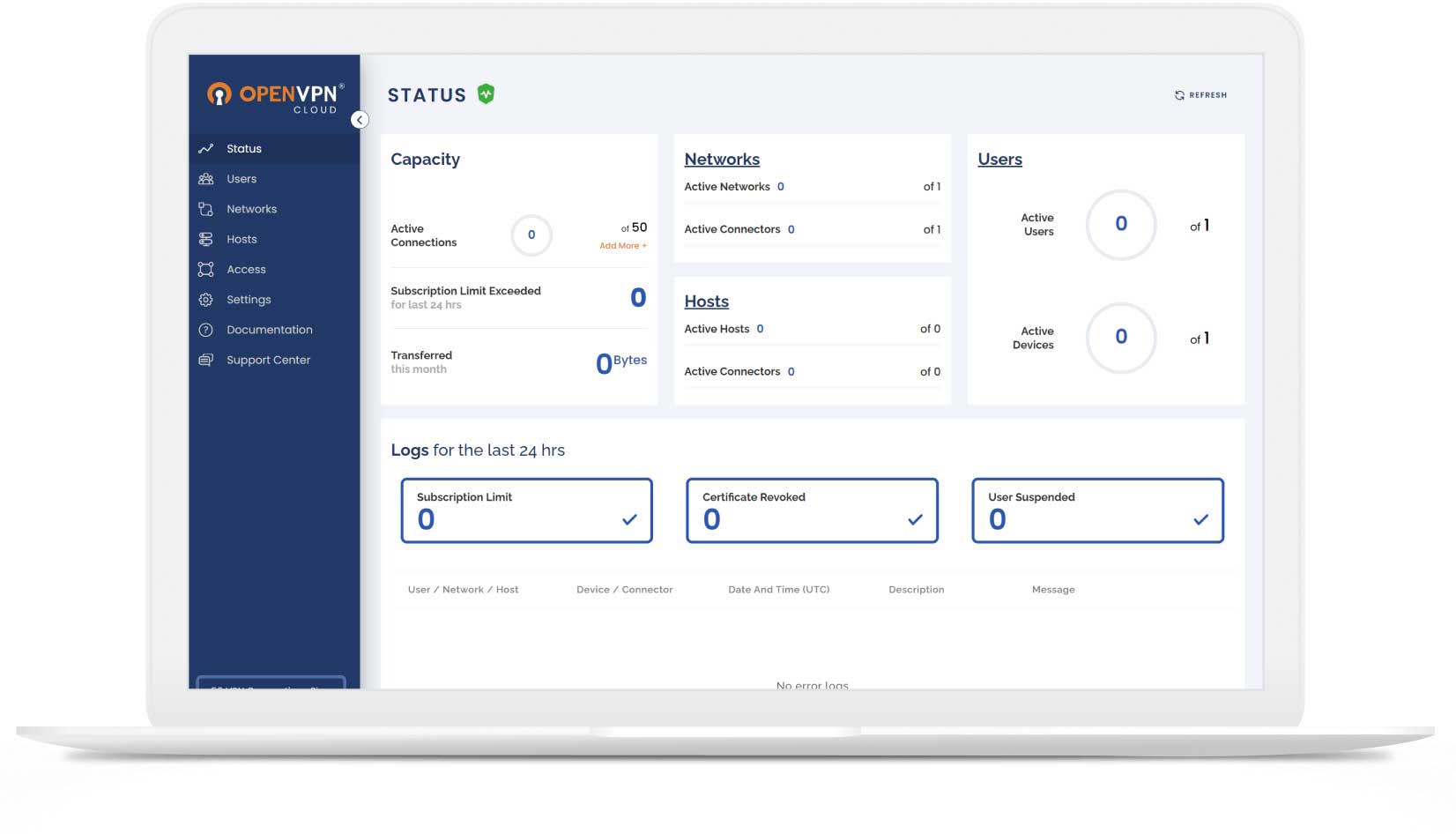 OpenVPN Cloud Regions
Our multi-tenant cloud service has a high-performing mesh core network that is spread out across multiple countries and offers multiple regional connection locations worldwide. New regions are continually being added to our managed service creating global worldwide coverage.
North America
Ashburn, VA, USA
Atlanta, GA, USA
Boston, MA, USA
Chicago, IL, USA
Columbus, OH, USA
Dallas, TX, USA
Kansas City, MO, USA
Los Angeles, CA, USA
Montreal, Canada
Miami, FL, USA
Newark, NJ, USA
Portland, OR, USA
San Jose, CA, USA
Toronto, Canada
Vancouver, Canada
Europe/Middle East/Africa
Amsterdam, Netherlands
Brussels, Belgium
Dublin, Republic of Ireland
Frankfurt, Germany
Helsinki, Finland
Johannesburg, South Africa
London, England
Madrid, Spain
Milan, Italy
Paris, France
Stockholm, Sweden
Tel Aviv, Israel
Warsaw, Poland
Zürich, Switzerland
Asia Pacific
Tokyo, Japan
Mumbai, India
Singapore
Sydney, Australia
South America
São Paulo, Brazil
Feature-Rich, Cost-Effective Network Security
OpenVPN Cloud makes it easier than ever for you to implement a robust, layered security solution.
Flexible Internet Routing

Don't just tunnel traffic to private resources on your connected networks; get unmatched control over internet-bound traffic routing by User Group, Network, or Host.

Multiple Isolated Overlay Networks

OpenVPN Cloud combines superior utility and usability so you can create and manage multiple wide-area private clouds (WPCs) from a single Owner account.

Application-based Domain Routing

Domain name awareness combined with sophisticated routing logic so you can define routes to connected networks using domain names.

Cyber Shield

This built-in feature of OpenVPN Cloud is an easy-to-use, customizable IDS/IPS and Content Filtering feature that protects remote access.

Cloud Protection/ZTNA

Don't sacrifice safety for the benefits of the Cloud. Create a dedicated worldwide private overlay network, exclusively for your use, with OpenVPN Cloud.

Internet Gateway Selection

Internet Gateway Selection lets you control which private network acts as an internet gateway for your networks, servers, and devices.
Detailed Capabilities
Networking
Support for Site-to-Site and Remote Access.
Full-mesh connectivity without complex configuration.
Unique local address range available for Customer use.
Support for peer-to-peer communication.
Security
Enhanced security as only outgoing connections to OpenVPN Cloud are made.
Firewalls don't need to be opened to allow incoming traffic from the internet.
DNS-based content filtering.
IPv4 and IPv6
Full RFC 1918 IPv4 private address range and IPv6 RFC 4193.
IPv6 and IPv4 support.
Virtual worldwide private secure networking IPv4 and IPv6 space for each Tenant/Customer.
There is no limited list of protocol or service support.
Cloud
Fully managed and hosted service.
Point and click centralized management and configuration.
End User
Offline or online connection profile distribution.
Assigned IP address to User devices and Connectors does not change or depend on connection point.
Supports Security Assertion Markup Language (SAML) 2.0 identity federation for Single Sign-On (SSO).
Routing
Improve network performance with smart routing.
Increase redundancy with multiple network connections.
IP-layer networking allows access to all IP-based services.
Flexible routing of Internet traffic.
Access private services by connecting to any of the worldwide regions.
Customers can use their private DNS servers.
Domain names can be used to route even if there are multiple networks with overlapping IP address ranges.
Similar to per-app VPN policies traffic can be steered into the VPN tunnel on a per-domain basis.