What Is A VPN?
A Virtual Private Network (VPN) provides your business with a securely encrypted connection to your network over the public Internet. It provides you with an important piece of layered security that's essential to protect your data. Using a VPN gives you the ability to remotely access important network resources and connect your company's branches and locations worldwide.
So what is a VPN, exactly? Let's find out.
Network basics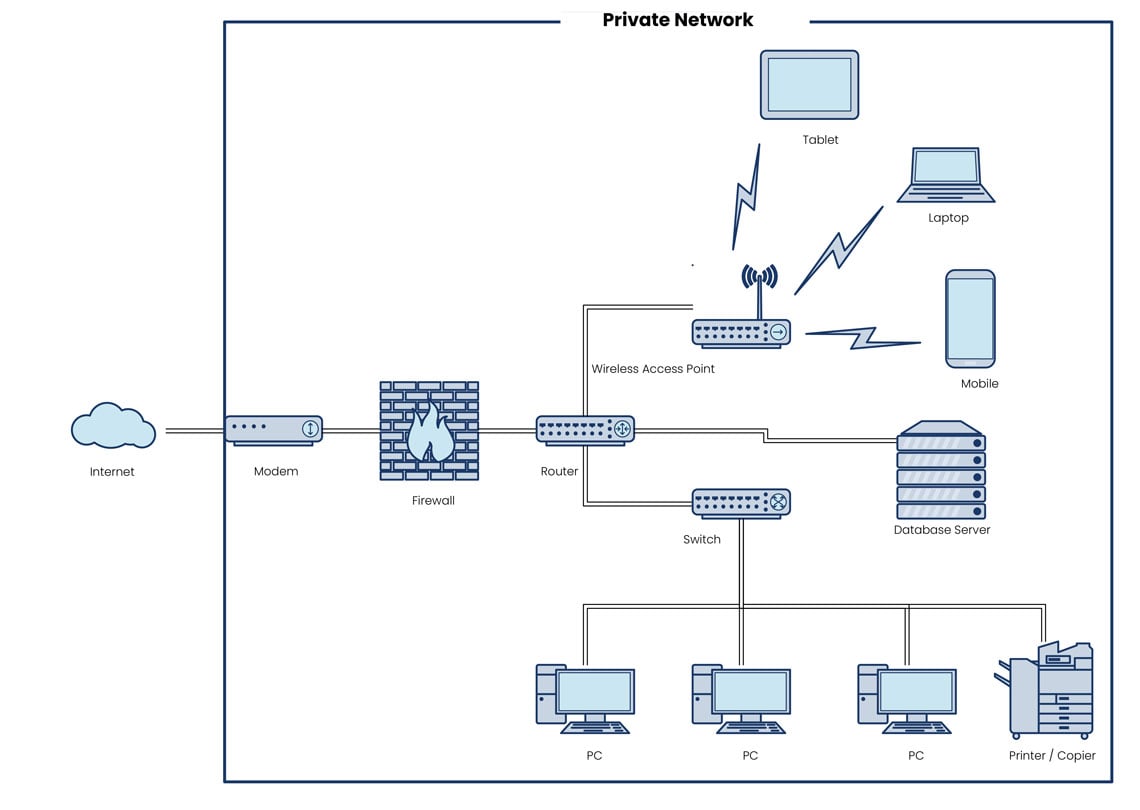 The above diagram is a simplified example of a basic small business network. Laptops, tablets, and mobile devices have access from a wireless access point while hard-wired devices such as PCs, printers, and copiers, connect directly over a switch. While at the office, employees have internet access, as well as access to resources from network and database servers. The firewall prevents unsolicited, incoming traffic to the office's private network. This ensures that the resources within the network are for internal company use only. When either employees or another network (e.g.: a branch office) are not physically in the same building, that's where a business VPN comes in.
What does VPN stand for?
'VPN' has become a common term and even if we know the words it stands for, do we understand what it means? What does VPN stand for?
As mentioned above, VPN stands for Virtual Private Network.
Your business protects its data by storing it within your Private Network. This may be a server or computers on-premises, or you may pay for cloud-hosted services. For the importance of securing your data, the Network should be secured. Secured = Private.
When you use a VPN, you can extend that Private Network, making it Virtual. Remote workers, those at another branch office, vendors, etc. are able to securely connect to your network by using VPN connections. None of these connections are directly wired like the ones in the network diagram above, where cables run from your network switch to company devices. Nor are they close enough to your wireless access point to connect using WiFi. Instead, they utilize the Internet to connect to your network. This can be done safely, continuing to keep your data private, by encrypting those connections. Through a VPN, packets are sent over the Internet through an encrypted tunnel. This tunnel makes it appear as though you are directly connected to the private network.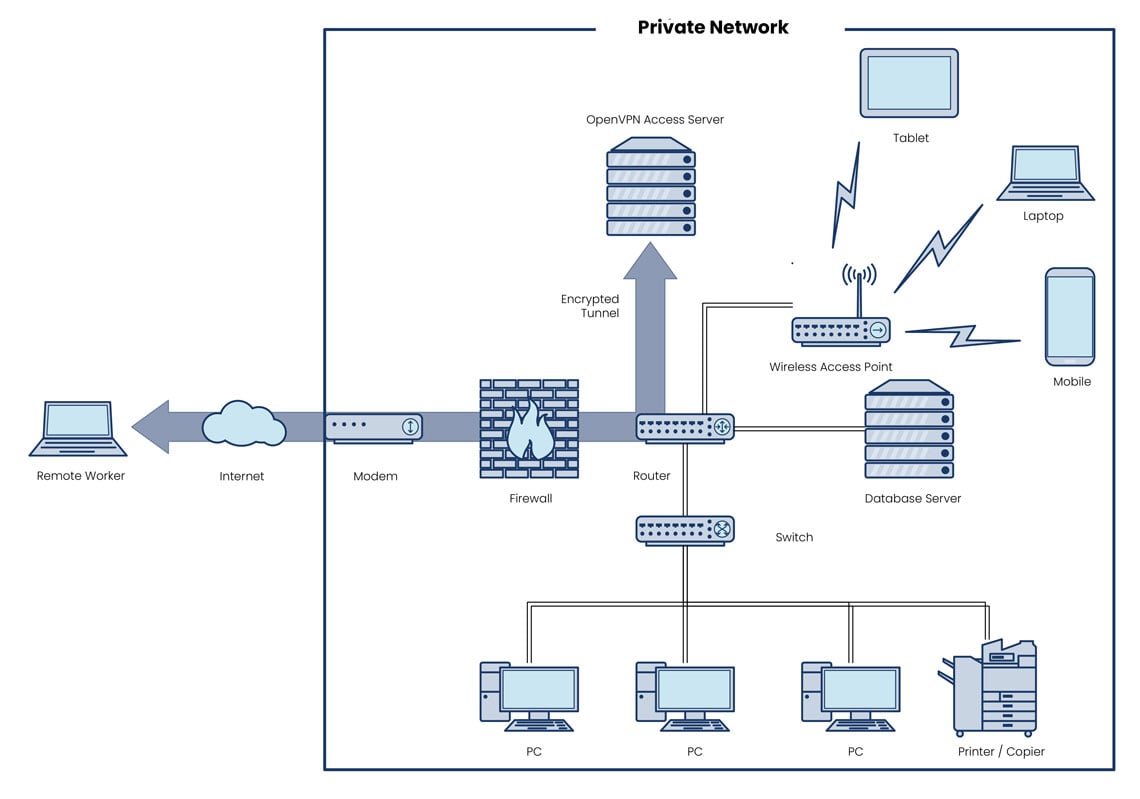 The above diagram shows a basic network with a Remote Worker connected securely over an encrypted tunnel through OpenVPN Access Server. Once connected, the Remote Worker can securely access other devices, the database server, and the printer / copier, exactly as though they were in the office. The firewall is configured to allow incoming, secure connections to the VPN server destination. Now, the worker is virtually a part of the private network with access to internal resources.
Two common types of business VPN setups:
OpenVPN Access Server supports endless configuration options. Businesses of all sizes use it to set up the exact access and granularity that they need for their company. While there are far too many options for us to show all the setups available, we can provide you with an overview of two common setups: Remote Access and Site-to-Site.
Remote Access
Connecting employees to the private network from various remote locations.
VPN Server
Grant and control access with your VPN server hosted on the private network
Client Apps
Securely connect with the VPN server using clients on user's computers and mobile devices
What is Remote Access and why would it benefit my business? Read details about it here: Remote Access VPN
Site-to-site
Connecting multiple, fixed sites (branches, offices, etc) over a public network.
Intranet VPN
Connecting remote and main offices
Extranet VPN
Connecting partners or customers with the main office
What is site-to-site and why would it benefit my business? Read details about it here: Site-to-site VPN
The difference between cloud and on-premise VPN setups:
Cloud computing might be the best new thing for small businesses. Your access to technology is simply a matter of choosing the right service contract. Many traditional desktop applications are disappearing as cloud adoption soars. For instance, accounting software vendors aren't boxing up their product to place it on the shelves at office store chains anymore. Instead, a small business can purchase an online, subscription-based product based on the features that they need, scaling up or down accordingly.
Pros and cons of cloud and on-premises servers:
Cloud servers

On-premises servers

Pros
Cons
Pros
Cons
No capital expense
Service contract can become expensive
Low upfront costs for small businesses
Your network bandwidth determines VPN bandwidth
Only pay for what you need
Third-party involved
Critical data stored on-site
More prone to data loss in emergency situations
Easy to scale up or down as company grows and adjusts
May be complicated configuration for granular access control
Easy to grant access to on-premises data
No uptime guarantees
Data backed up regularly and consistent uptimes
Must be very aware of third-party security risks based on how vendor handles data
Low monthly or annual cost for licenses
Requires hardware, infrastructure, and IT support
What is a VPN in the cloud?
OpenVPN Access Server can be set up using cloud service providers, or on-premises with your own server. There are pros and cons of both, so it's simply a matter of which option best fits your VPN needs.
OpenVPN Access Server can exist in the cloud by choosing your service provider and using our software solutions configured specifically for these marketplaces:
You can launch a virtual server and have it up and running with your own OpenVPN Access Server within minutes with this option. Why would you want to launch in the cloud? Perhaps you have your web server hosted with Amazon Web Services and want better control over access. You can add a new instance by launching OpenVPN Access Server from the AWS Marketplace and configure granular access.
Launching OpenVPN Access Server on your own Linux server is also a very cost-effective method that can provide your users with secure, remote access to on-site data. If you host your web server at your office, you could provide remote access to a web developer by setting up Access Server and creating a user profile for them.
Benefits of Business VPNs
Still wondering if your business should provide a VPN? Here are some more benefits to consider.
With a VPN you can:
Extend geographic connections:

branches and offices can connect to each other, no matter their location.

Enjoy low network infrastructure costs:

purchasing a subscription for OpenVPN Access Server is cost effective and based on the number of VPN connections (rather than the number of users).

Save on travel costs for your remote workforce:

provide virtual connections to the network for your off-site users.

Increase your productivity:

provide access to the network 24/7 so employees can work outside of the typical 9-5 business hours.

Access global networking:

Easily support a global workforce, provide security for your data and expand your hiring pool.

See better ROI than traditional WAN:

save on the expensive costs of expanding your network using solutions such as WAN.

Gain security and privacy:

a VPN is an important piece of the must-have layered security for every business operating in our hyper-connected market.

Scale simply and efficiently:

easily add more VPN connections as your business expands.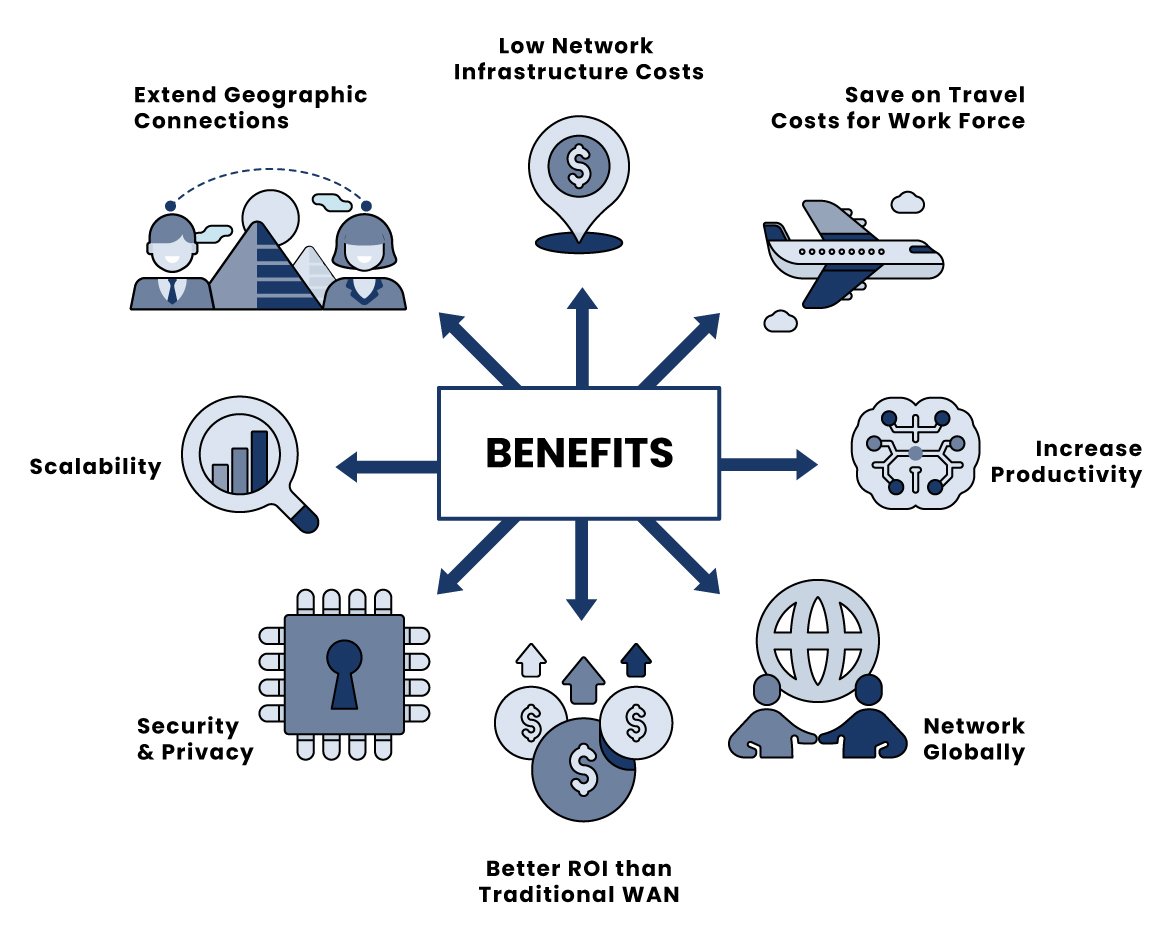 Overview of OpenVPN for Business
OpenVPN is an open-source software that implements virtual private network technologies. It secures and encrypts data transmission over the Internet. Its custom security protocol utilizes SSL/TLS for key exchange and has become the de facto standard in the open source networking space with over 60 million downloads since inception.
OpenVPN Access Server is our business VPN product — we built it with you in mind. You can afford the industry-standard VPN technology to secure your business data. And no matter the size of your business, with Access Server's licensing model, you can implement an affordable solution — one that doesn't require diving into Linux command lines if you don't want to. And one that doesn't require purchasing and maintaining expensive hardware.
OpenVPN Access Server provides your business with security and encryption you can easily manage with a simple, intuitive, and even beautiful (if we can brag) web interface. Everything can be managed from your own Admin Web UI that launches with your Access Server.
Built on the transparency and security of open source, you can expect the best from OpenVPN Access Server, securing your business data and communications. And you can get started today — with two free VPN connections. You don't need to put down an initial investment or sign up for a free trial that expires within a month. You can take all the time you want to test out your configuration before deciding to purchase a subscription.
Ready to see how easy it is to launch OpenVPN Access Server for your business? Let's get to it!
VPN Access Server for Business
VPN for Consumers: Private Tunnel
Private Tunnel is our consumer-level VPN product. Private Tunnel provides you with secure, private access to the internet. Wherever you connect, whether it's at home, over public Wifi, or traveling, Private Tunnel keeps your connection encrypted and your IP address anonymous.
Private Tunnel is built on our award-winning open source VPN protocol. It includes AES encryption, hot spot protection, 24/7 support, global server connections, and IP privacy. Easily connect with Private Tunnel on iOS, Android, and desktop to ensure all of your devices are protected at all times.
Use Case Examples for OpenVPN Access Server
A great way to better understand "What is a VPN?" can sometimes be to see exactly how other businesses have benefited from OpenVPN Access Server. Feel free to hop over to these case studies to do just that:
With the two free connections provided through OpenVPN Access Server, you can set up your own solution and test it without paying a thing. After that, it's easy to add VPN connections to support your needs, once you determine if the configuration is the right fit for your business.