OpenVPN Solutions
Site-to-Site Networking
A site-to-site virtual private network secures your extended enterprise by interconnecting your corporate network with remote offices and cloud networks through encrypted tunnels
Challenges
How can you securely connect your distributed network locations — all of them — without purchasing expensive hardware, leased lines, MPLS connections, and overcomplicating setup and management?
Connect private networks
Enable secure access across your disparate home office, branch locations, and private cloud networks.
Contain and reduce hardware costs
Establish the enterprise-grade security of wide area networks (WAN) without the high capital expenditure and support costs.
Enable remote office connectivity
Connect your remote offices and corporate network with a simple, affordable solution while maintaining robust, reliable security.
Ensure secure cloud access
Cloud migration replaced your centralized data center with a patchwork of cloud services that's difficult to consistently secure.
Robust Features and Reliable Solutions for Site-to-Site Networking
Cloud Connexa helps you quickly and easily set up a secure full-mesh network that connects your headquarters, remote offices, and cloud-based private networks to each other.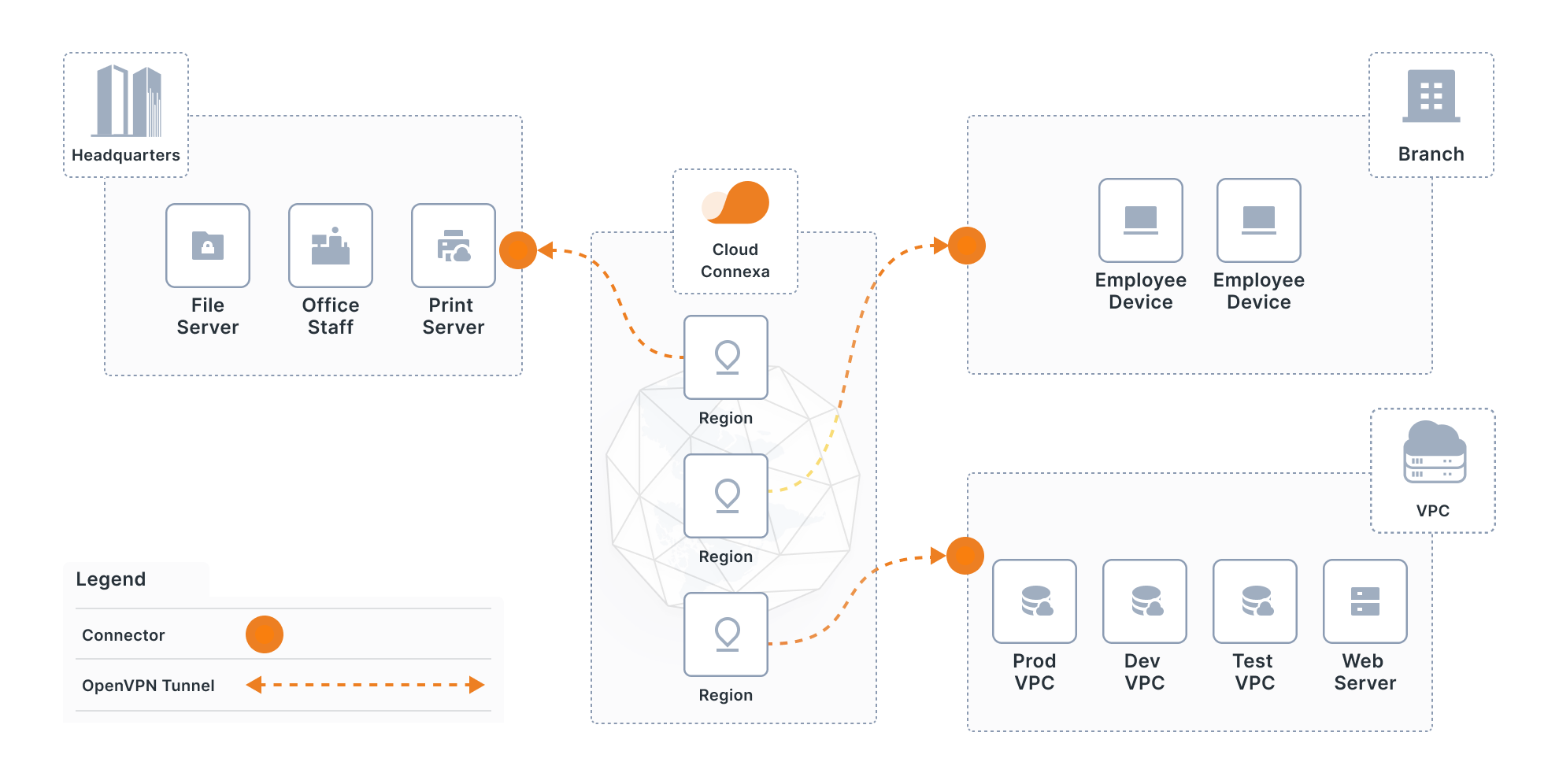 Cloud Connexa acts as a software-defined WAN alternative by giving you the ability to:
Create a private enterprise WAN, protected with built-in IDS/IPS, across all of your locations. Set up remote offices and branches with full-mesh connectivity for communicating with each other and headquarters.
Ensure enterprise-class redundancy, throughput, and reliability with Cloud Smart Routing. The system optimizes traffic by Connector proximity, network behavior, and load balancing between source and destination.
Choose from a full-mesh solution or define granular access control for specific network resources and services.
Manage your users and groups, networks, hosts, and Connectors easily and efficiently with the intuitive administration console.
Unite networks with overlapping IP subnets.
Results
Secure distributed networks
Economical, software-defined security
Local and global connections
Reliable secure access control
Start using Cloud Connexa
free with 3 connections
.
No credit card required.
Access Server lets you connect a variety of networks and create secure site-to-site connections in addition to quickly and easily managing users, permissions, subnets, and connections with or without Linux knowledge.


Access Server provides secure, reliable connections across all of your distributed networks by giving you the ability to:
Eliminate single points of failure and ensure high network performance by setting up an "active-active" cluster configuration with multiple Access Servers.
Easily connect OpenVPN-compatible routers at remote offices to the Access Server at your corporate network with a process much easier than IPSec.
Deploy Access Server on a cloud network and configure secure gateway clients at remote offices.
Find Access Server at the most popular marketplaces, including AWS, Google Cloud, Oracle, Azure, and DigitalOcean.
Results
Secure distributed networks
Economical, software solution
Highly available and scalable
Start using Access Server free with 2 connections.
No credit card required.
Available for Red Hat Enterprise Linux, CentOS, Ubuntu, or Debian directly from our official repository. Download as a virtual appliance, or launch from a public cloud provider like
AWS
.