OpenVPN Solutions
Protect Access to SaaS Applications
Organizations of every size are accessing more cloud services for virtually every aspect of their business, making secure, private access to these online services essential.
Challenges
How can your company control employee access to all SaaS applications and enforce strong security, particularly when SaaS providers don't use strong identity protection or multi-factor authentication?
Securing SaaS access
All employees must be authenticated and authorized to access approved SaaS applications they need, whether they're using a corporate or personal device
Enforcing granular access control
More SaaS apps are coming online daily, so you need a granular, not blanket, access policy to track which users are accessing which apps.
Prevent unauthorized access
Make sure authenticated users have global secure access and consistently block unauthorized user access.
Maintain optimal bandwidth usage
Routing all internet traffic through a VPN to protect SaaS traffic can create bandwidth issues and poor application performance, which can reduce employee productivity.
Robust Features and Reliable Solutions for SaaS Applications Access
Cloud Connexa helps reduce security threats to your growing SaaS environment while ensuring secure access to all SaaS applications for employees, vendors, and business partners.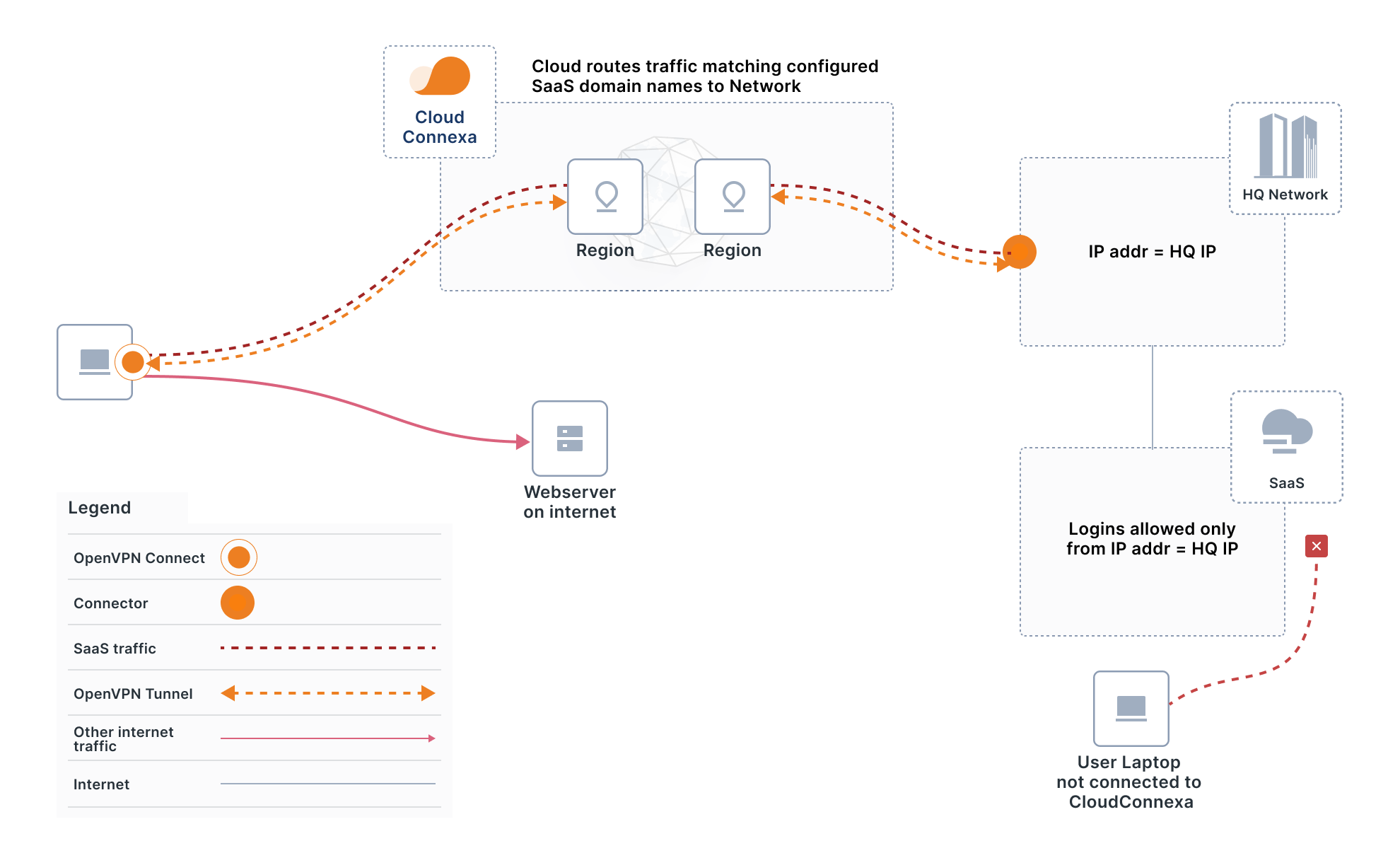 Cloud Connexa provides a secure, user-friendly experience for protecting SaaS access by giving you the ability to:
Route specific SaaS domains through your Cloud Connexa tunnel so SaaS traffic is secure and encrypted, guarding against attacks. This also simplifies using whitelisted IP addresses.
Reduce bandwidth requirements by routing only SaaS traffic through the secure virtualized network. You also have the option to route all traffic through Cloud Connexa.
Easily configure role-based access control to grant SaaS access only to job roles that require it.
Establish superior environment security by having users securely connect with the OpenVPN Connect app, which can be used to authenticate with leading 3rd-party identity providers using multi-factor authentication (MFA).
Results
Role-based security
Easy, secure single sign-on
Granular access control
Start using Cloud Connexa
free with 3 connections
.
No credit card required.
Ensure the security of your SaaS applications with private network access through Access Server. You'll get more control over who can connect — whether it's employees, vendors, or partners.
Access Server provides a secure, user-friendly experience for protecting SaaS access by giving you the ability to:
Create an environment where all access to SaaS services is routed through Access Server, while all other internet traffic is not, lowering bandwidth requirements. Access Server can also be configured to tunnel all traffic.
Overcome the challenge of maintaining a list of ever-changing IP addresses by whitelisting SaaS access using the single, public IP address of the Access Server. This enables secure access to the SaaS environment for all users by inheriting the whitelisted IP address.
Grant secure SaaS access only to those job roles that require it. With user and group access control lists in Access Server's Admin Web UI, you can easily create specified access according to roles.
Uplevel protection through a secure virtualized network, and reduce your attack surface, by creating stronger access controls for every SaaS application.
Results
Lockdown SaaS access
Enable role-based security
Optimize bandwidth
Whitelist SaaS access
Start using Access Server free with 2 connections.
No credit card required.
Available for Red Hat Enterprise Linux, CentOS, Ubuntu, or Debian directly from our official repository. Download as a virtual appliance, or launch from a public cloud provider like
AWS
.