OpenVPN Cloud is changing to CloudConnexa®, but it's still the same great product.
It's official: we're changing the name of our cloud-delivered service, OpenVPN Cloud. And you'll be glad to know that apart from the name, absolutely nothing will change for you, our amazing customers. Keep reading for the details on how and why we're making the shift to CloudConnexa™.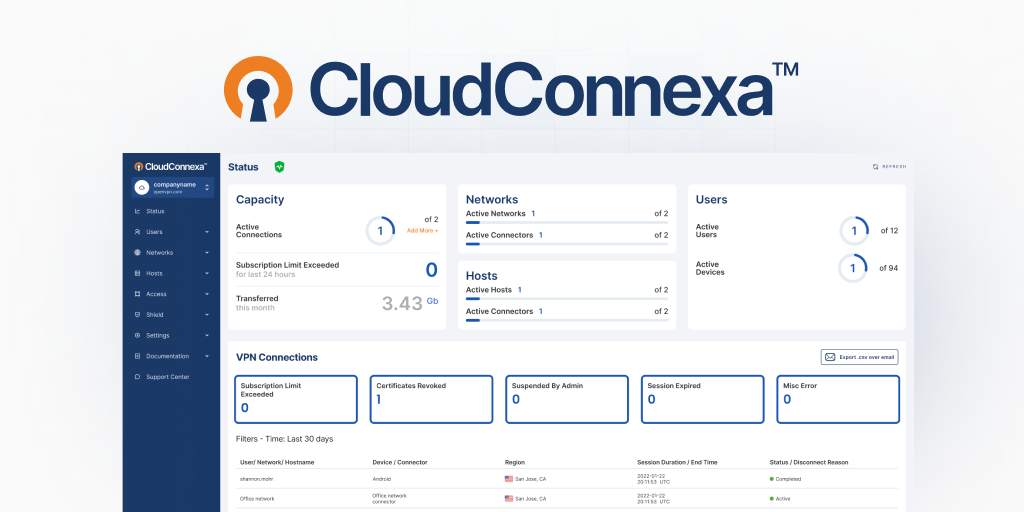 What's Changing?
OpenVPN launched in 2001, and we released our cloud-delivered platform, OpenVPN Cloud, in 2020. From the beginning, we've taken our commitment to customers seriously, and we want to honor the trust you've placed in us as your partner in secure network connectivity.
That's why we're taking steps to keep our customers informed and in-the-know about this announcement: OpenVPN Cloud is becoming CloudConnexa™.
And even though the name is changing, rest assured that we will continue to deliver the robust, reliable ZTNA, remote access, and site-to-site networking security solution you know and love.
Recommended Reading: How to Create ZTNA with OpenVPN Cloud
Will This Impact My Service?
The shift to CloudConnexa® will not impact your service in any way. While we're updating our website and resources (whitepapers, datasheets, etc.), you may see both names, but any information related to OpenVPN Cloud applies to CloudConnexa®.
Who Can I Contact With Questions?
If you have any questions about the change – or anything else – our Technical Support team is available 24/7 to answer them. Just get in touch here.
Recommended Reading: ZTNA — Beyond the Acronym
New to CloudConnexa? Get Started Today
If you're not a current customer but want to take your business to the next level, we invite you to consider CloudConnexa or OpenVPN Access Server. Work from anywhere and from any device with confidence. Create an account today to get the secure network connectivity your business needs.