PLEASANTON, Calif. — March 10, 2021 — OpenVPN Inc. is excited to announce the launch of a new OpenVPN Cloud feature that brings domain name awareness to its sophisticated routing logic. OpenVPN has had many requests to define resources by domain names, and now the company can meet that demand. The new Domain Routing components provide intelligent VPN routing and security solutions using recognizable domain names, both private and public.
"When engineers configure access based on IPs, it might become a complicated task as it is difficult to remember what each IP represents. With this new feature, one resource can have multiple IPs, and IPs can overlap or even change. Domain-based rules solve all of these issues and create an easy way to define resources and configure access to them," says Kyryl Tumanov, OpenVPN Cloud Product Manager.
Domain Routing: A Powerful Security Feature for Business
Thanks to this new feature, admins can protect access to SaaS applications using public domain names while still utilizing split-tunneling. Tumanov shares an example of this feature in action: "Administrators can use Domain Routing to ensure only specific users can access an organization's SaaS tool. They can assign access to a group of users and route that group's traffic through the VPN. When the group's users sign into the SaaS tool, they are using a whitelisted IP address — the organization's public IP address that is presented by OpenVPN Cloud."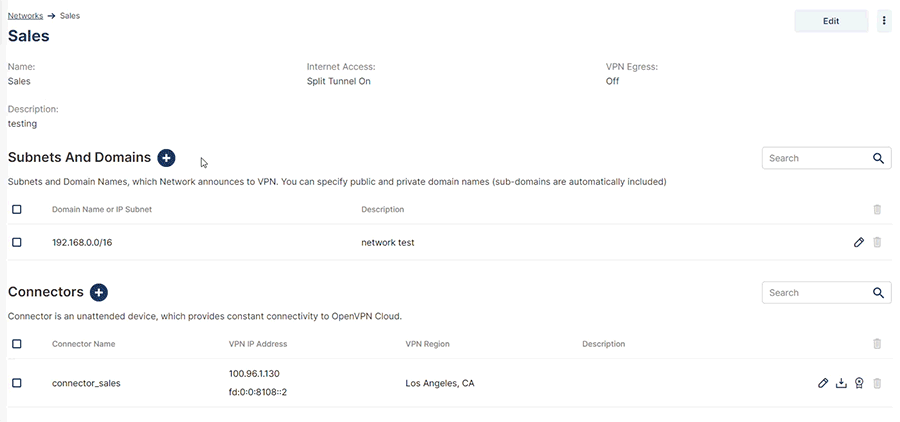 In addition to SaaS protection, Domain Routing offers the following:
Strict destination access control prevents malware, phishing, and other threats, by restricting access to only authorized and trusted internet destinations.
A quick and straightforward process to set up a DNS record in the OpenVPN Cloud administration portal instead of updating records on a private DNS server.
A powerful tool to manage the complexities involved with IoT networks.
Tumanov expands on this last point: "Admins can now distinguish networks based on domain names instead of IP addresses. Fully qualified domain names can be used to route to a specific host on a specific network even if there are multiple networks with overlapping IP address ranges."
OpenVPN users are already embracing this new feature and enjoying the associated benefits. "Given that some of our customers were eagerly awaiting this feature, it came as no surprise to see its adoption rates skyrocket within a few days of introduction. Our ability to selectively steer traffic to OpenVPN Cloud (similar to a per-app VPN) and handle networks with overlapping IP address subnets sets us far apart from our competition and is a game-changing benefit to our SMB customers," says Rohit Kalbag, Senior Product Manager at OpenVPN.
ABOUT OPENVPN INC.
We are a provider of next-generation secure and scalable communication services. Our award-winning open source VPN protocol has established itself as a de-facto standard in the open source networking space, with over 60 million downloads since inception. OpenVPN has an integrated suite of leading-edge networking and software technologies to deliver secure, reliable, and scalable virtual network software to meet the security needs of businesses of any size.
Contact Information:
VP, Marketing & Customer Success