Amazon AMI - which image is right for me?
If you search "openvpn" within the AWSMarketplace you will receive a number of options. Differences between numbers of users is self-explanatory, however there is a difference between the first and second option that is shown on this results page.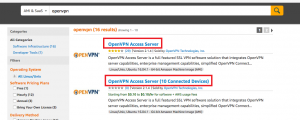 Both of these are pre-built Access Server images that are ready to deploy.
The first option is a Bring Your Own License image - in order to add users and allow them to connect, an Access Server license will need to be purchased and activated on the instance.
Licenses can be obtained from our website https://openvpn.net/index.php/access-server/license-key.html?paynow=SALE
The second option (and all of our other AMIs) come with licenses attached and are ready for your users to connect as soon as they are deployed.
What are the differences?
BYOL -
BYOL images will be charged annually for the licenses
If more connections are need additional licenses will have to be purchased
Licenses can only be used once, if a new server is deployed the license will need to be reissued. Our support department will take care of that for you
AMIs with licenses attached -
Charged hourly based on usage, only the hours that are used are billed
Auto-scalability, ability to bring images up or down based on need
Mobility, AWS keeps track of the licenses, they can be moved as needed
Both image types will incur standard AWS usage charges based on the size of the instance.