If you've never worked remotely, you might have grand ideas in your head of what it's like. Wake up, drink coffee, meditate, and work from a peaceful and beautiful location, free from distractions and interruptions. 
That's a really lovely idea — and sometimes it works! But more often than not, it doesn't quite go that way.
We are pulling back the curtain to give you a behind the scenes glimpse into what working from home is really like.
Eating While Meeting
When you work remotely, you never have to worry about a meeting running late. You can chop veggies and preheat the oven while listening and participating — and in the case of our OpenVPN Cloud Manager, Kyryl, you can grill a mean dinner singlehandedly (literally) while creating a legendary new product. Way to multitask, Kyryl!

"I needed to have a call with colleagues from the US when it was evening my time. I couldn't postpone dinner for my wife and kids, so I just did both things at the same time. I can confirm that neither the laptop nor dinner was burnt!" - Kyryl
If you are like our technical writer Lauren, you can use meetings as the perfect excuse to break out cookies, chips, and the occasional "dirty Dr. Pepper." After all, calories don't count when you're meeting with your team...right?
Why Did the Chicken Cross the Keyboard?
Working remotely, we also get our fair share of fluffy office-crashers. It isn't abnormal at all for a kitty or duckling to make an appearance during meetings — and yes, we all stop what we are doing to pay attention to the widdle babies.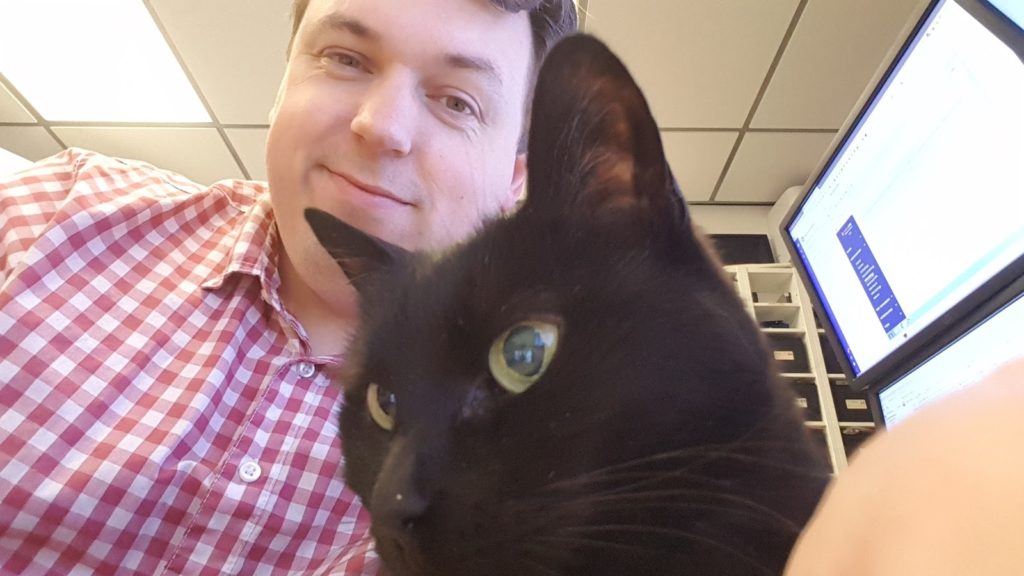 The Cutest Coworkers
A lot of OpenVPN employees are work at home parents, so we like to think of their kids as our adorable coworkers-in-training. It's always fun when these little friends join in on our meetings. And who knows — maybe someday they really will be our coworkers. They all seem 100% smart enough. The apple doesn't fall far from the tree, huh?

Julie and Kyryl in meetings with their miniature employees-in-training.
"My daughters wanted to spend time with me, so I took the meeting with them sitting on my lap. No one from the team noticed even though I was unmuted. My daughters know to speak quietly when dad is working." - Kyryl
We wouldn't be showing you a true behind the scenes snapshot without being fully candid though. Our mini coworkers are all super cute, but they definitely like to keep us on our toes!
"Two out of three of my kids are currently doing virtual school. Sometimes I have meetings at the same time they are in class, which leaves my 4-year-old with nothing to do but cause mayhem. If you ever want to see pure chaos, take a peek into my house during those hours. He makes sure we all pay attention to him, but really...#sendhelp" - Julie
"One time I was on a Slack call, and I moved to the next room to avoid noise from my 5-year-old son. While on the call my audio stopped working, then my cursor started moving and my computer was typing seemingly on its own. It seemed like my machine was compromised. I went back to the other room and my son had my wireless keyboard and mouse. Turns out he had disabled my audio and was typing on the keyboard." - Virgus

Working from Wherever — Not Always Glamorous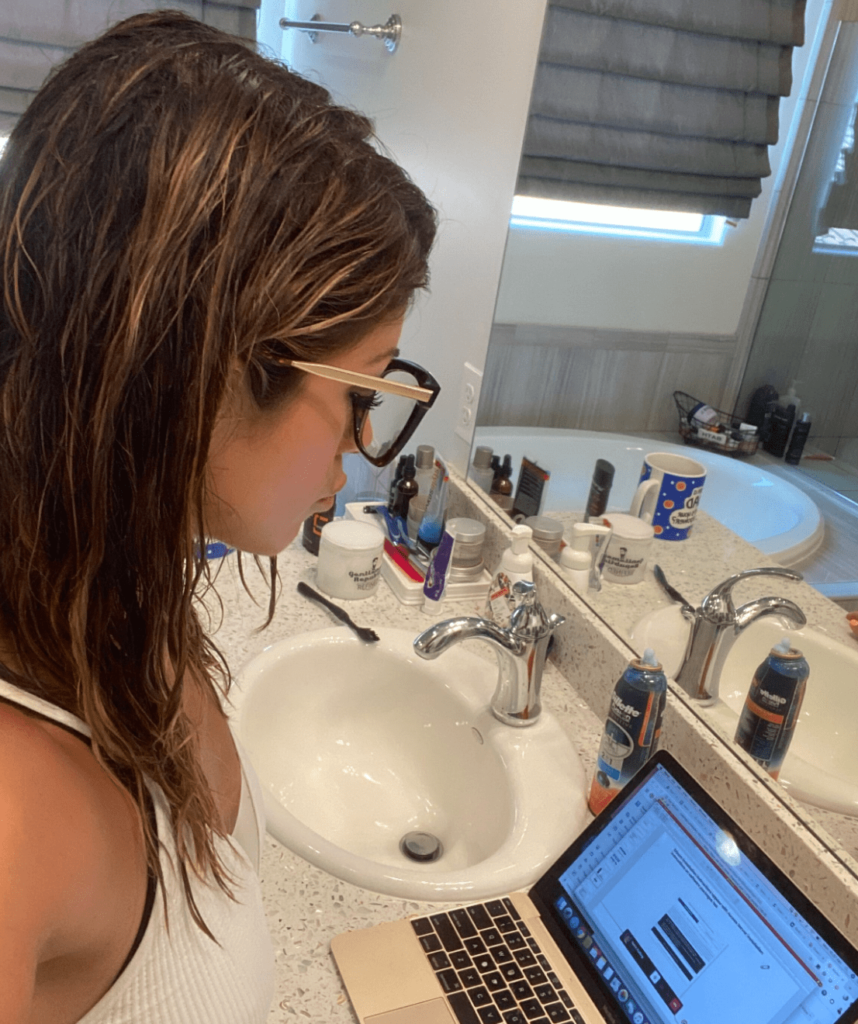 When you first start working remotely, you probably picture yourself taking meetings on the beach or doing your work from a beautiful hotel room. And while that can certainly be the case, the reality is that a lot of the time we are working from wherever is most convenient. Even if that happens to be the bathroom. Nineveh, our VP of Marketing and Customer Success, will occasionally prep for "camera's on" meetings while in "camera's off" meetings.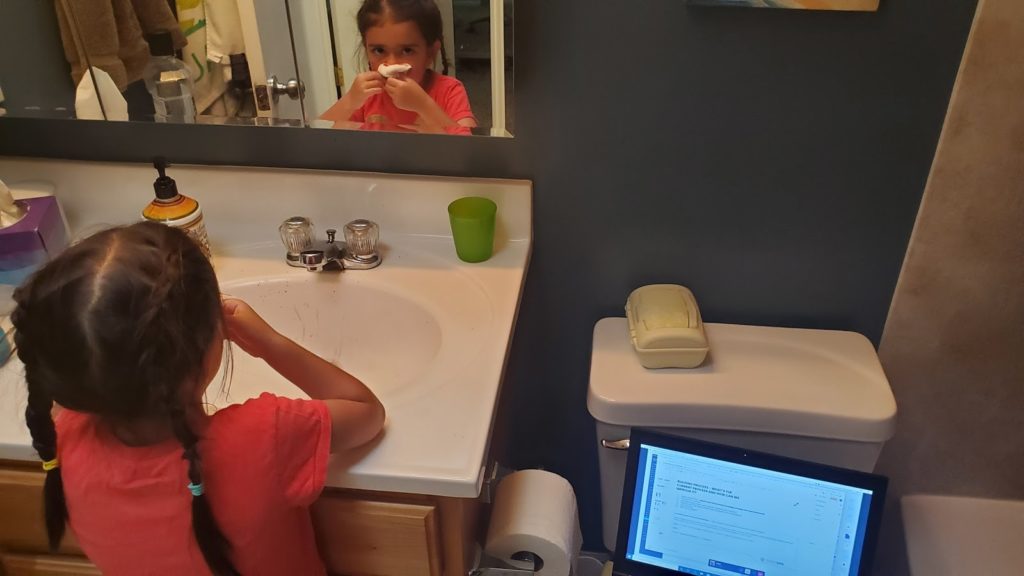 And supermom/technical writer Lauren is a pro at taking care of ouchies while working.
"Now that my husband is working from home as well (thanks COVID!) it can get a bit tricky when we both have work meetings scheduled at the same time. His computer set-up isn't as portable as mine, so I am usually the one who has to move to another room. And to get the level of quiet I prefer, I usually take those meetings in a closet." - Lydia

As far as working in glamorous locations: community member Jeff lives and works in the Caribbean (yes, we are all jealous too), and said that sometimes his air conditioning makes so much noise that he has to turn it off during meetings to hear and be heard. And while we don't envy having to go through sessions without AC...we ultimately say: that's a small price to pay Jeff! #greenwithenvy