Employees Need a VPN App for iPhone
The number of employees working remotely climbs steadily every year. In 2002, approximately 3.3% of the workforce worked remotely. But according to recent information released by the US Census Bureau, more than 5.2% of employees in the US worked at home in 2017 — which ends up being around 8 million people.
The rise in remote work has been fueled by improved internet connectivity, the abundance of internet-connected devices, and worker demand for more flexible work environments. When companies offer remote opportunities, employees can strike a better balance between work, family, and life. Remote work allows employees to eliminate lengthy commutes — in the US, the average commute time is 26.1 minutes one way, which ends up being over 200 hours a year. Employees can harness those extra 200+ hours to pursue further education, spend more time with their families, or participate in hobbies they enjoy. Working remotely also allows employees to coordinate family care and handle family and household issues without having to take extended periods of time off from work. All of these benefits together provide employees with overall better health and wellness.
But the benefits aren't just for employees — there are many advantages for businesses that implement and allow remote work:
It can significantly increase worker productivity.
It can lower stress and increase team morale.
It decreases real estate costs and overhead.
It can lead to greater employee engagement.
It helps companies retain their top employees.
It meets the demands of the younger workers.
It keeps older workers in the workforce longer.
Remote work is an excellent perk for both employees and organizations, and comes with relatively few drawbacks. However, there is one key drawback that business leaders need to be aware of: employees who work remotely are more likely to connect to the network from the mobile phones, and conduct work over unsecured, public Wifi — putting sensitive business data at greater risk. But fortunately, there is a straightforward solution: a VPN app for iPhone. When employees use a VPN app for iPhone like OpenVPN Connect, they can connect securely to the business network no matter what location they are working from.
OpenVPN Connect — The Best VPN App for iPhone
OpenVPN Connect is the official full-featured iPhone/iPad VPN client for the OpenVPN Access Server, Private Tunnel VPN, and OpenVPN Community — developed by OpenVPN Inc. The OpenVPN Connect App enables mobile users to have access to Enterprise-grade security, reliability, and scalability features offered by the OpenVPN Access Server Software. This free VPN app for iPhone can be used to connect to OpenVPN Access Server - Enterprise Software Edition, and the OpenVPN Community Software Edition.
OpenVPN Connect provides employees with access to business resources and services across the public internet, from their mobile devices. OpenVPN's intuitive, easy to use software-based platform makes it simple for any organization's employees to gain secure access to the private cloud, public cloud, and public internet resources and applications through this free VPN app for iPhone.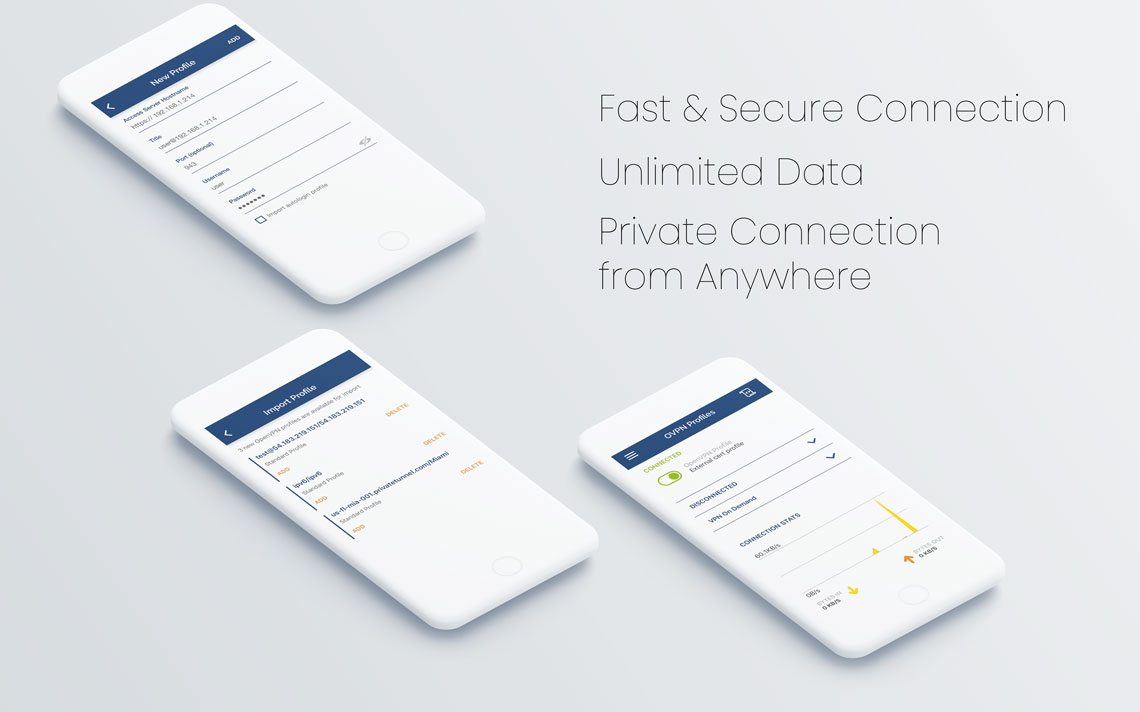 OpenVPN Connect in Action
Take for instance a nonprofit corporation created to provide the option of television access to deaf and hard-of-hearing communities and subsequently to those learning to speak English as a second language. They deliver closed captioning for broadcast, emergency, event, and offline programs. They convert speech to the text that you see when you click the CC button on your remote.
The company has offices in two US states, in addition to a remote data center. They operate 24/7, 365 days a year. While some staff work from the office locations, the vast majority of their workforce is entirely remote. But the remote staff still needs to be able to connect reliably to any of the three facilities' networks to access specialized software/services — and should a resource at any site give the Captioner concern (i.e. slow or unresponsive), they need to have a way to quickly redirect to a different facility to minimize caption loss.
OpenVPN Connect Client supports configuration of multiple connection profiles, making switching between different offices easy. OpenVPN Connect Client also supports a special connection profile called 'auto-login' which allows users to connect without needing to enter username/password. Authentication is done solely based on security certificates. This can speed up the connection setup when the Captioner needs to redirect to a different facility to minimize caption loss.
To meet the remote workers' needs, Access Server was installed in all the three office locations, and OpenVPN Connect Clients were installed on the remote staff's devices. All of the remote employees can now securely and reliably connect to any one of their office locations to access specialized services for closed captioning — and the use of "auto-login" connection profiles allows for quick switch to an alternate office with minimal caption loss.
"OpenVPN has built a community of millions — company employees, IT professionals, and small business owners — that need enterprise-grade secure SSL VPN connections for their mobile devices. The OpenVPN Connect App is our way to meet such demand."
- Francis Dinha, OpenVPN CEO
Finding and Downloading OpenVPN Connect
The OpenVPN protocol is not built into the Apple iOS operating system for iPhones, iPads, and iPods. Therefore, a client program is required that can handle capturing the traffic you wish to send through the OpenVPN tunnel, and encrypting it and passing it to the OpenVPN server. And of course, the reverse, to decrypt the return traffic. For that reason, a client program is required, and there is only one client available that works on standard Apple iOS devices — and we are currently the only company developing and maintaining an app on this platform.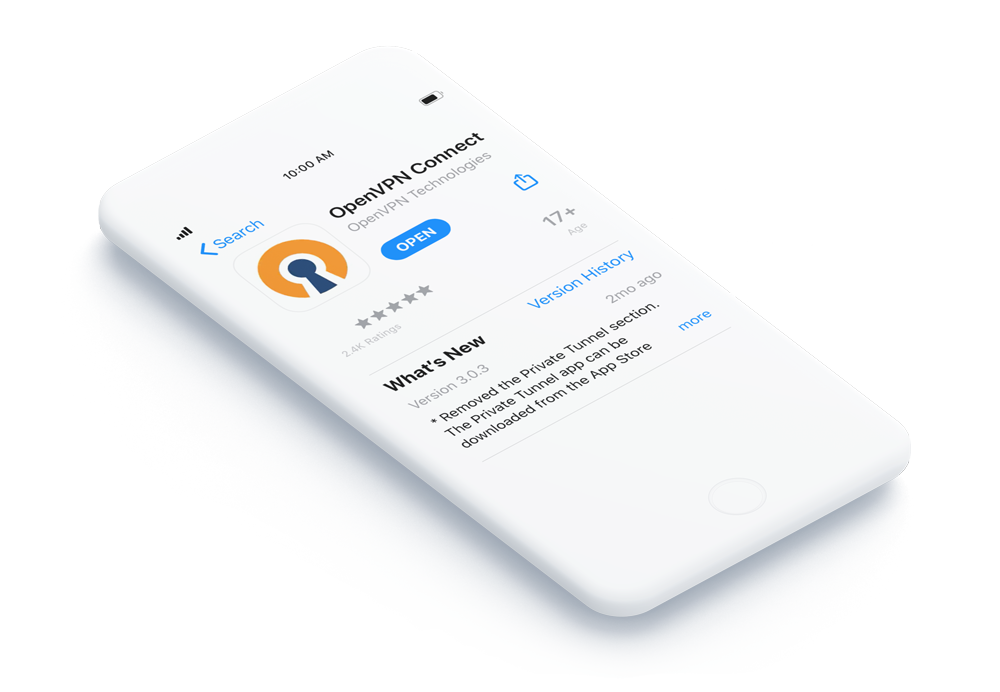 On the official Apple App Store, you can download and install OpenVPN Connect for free. This program supports one active VPN tunnel at a time — which means that while the OpenVPN Connect app can remember multiple different servers, only one can be active at a time.
To obtain the OpenVPN Connect app, go to the Apple App Store on your Apple iOS device. Search for "OpenVPN connect," and the app will show up in the search results. Once installed, an icon will be placed on your home screen, where you can find the app. Once you open it, you can use the Import profile from the OpenVPN Access Server option to start the import process. Then enter the address of your Access Server's web interface here and click "go." You'll be shown the login page to fill in your credentials. A list of available connection profiles for your user account will be shown, and valid selections are the user-locked profile or the auto-login profile, if available. Once imported, you can finalize the import process. Now you are ready to use the app!