Site-to-Site Networking with Cloud
You have been steadily building your business's customer base now for several years, and have built up a great reputation in the local community. Now, thanks to happy clients spreading the news on social media, there is a lot of demand for you to open additional locations. Congratulations!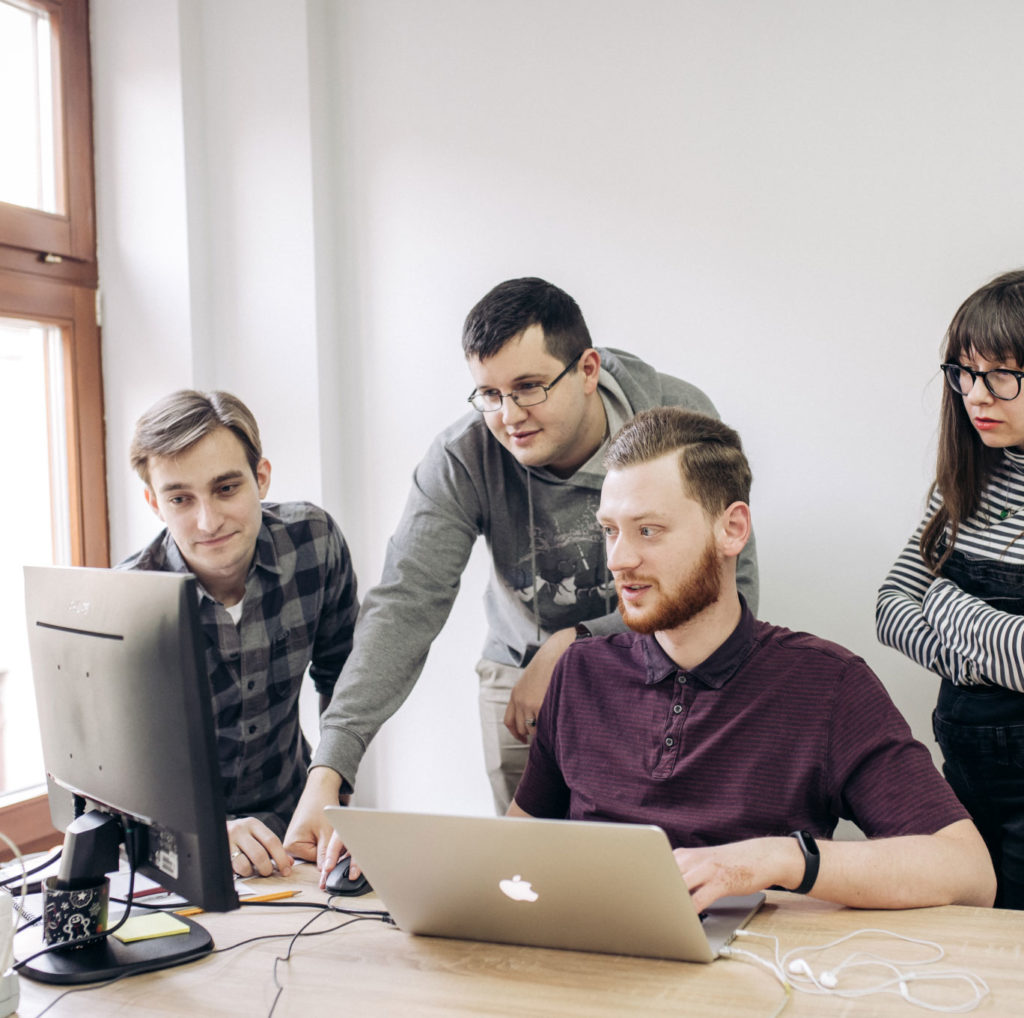 With expansion on the horizon, you need to figure out all the logistics to make sure each of your locations can operate smoothly. Two requirements at each location are to access secure resources and share data with each other.
To make this possible, you need a site-to-site VPN. A site-to-site VPN allows all your different business locations to connect with each other and securely transmit data over the public internet.
But site-to-site VPNs are complicated, right? Until recently you were a small operation working from one office — you don't even have an IT team or anyone who would be able to manage, install, or maintain VPN servers. A site-to-site VPN is totally off the table.
Or is it?
A Serverless VPN
Having a site-to-site VPN can be really helpful whether you are a smaller operation with just a couple locations or a large international corporation because it makes multiple office locations all part of one virtual network. A site-to-site VPN allows for private connectivity between geographically distributed office locations, which can increase overall productivity because resources on one site are now accessible from another.
Here at OpenVPN, we know exactly how important a site-to-site VPN is — but we are also aware of limitations many organizations face.
That's why we created OpenVPN Cloud.
OpenVPN Cloud is our newest VPN product, and completely eliminates servers on your end. All you have to do is connect to one of our worldwide VPN Regions, and we take care of all the server management and maintenance. All of the benefits of a VPN, without any of the hassle.
Take a look at how a business with multiple locations can use OpenVPN Cloud as their site-to-site VPN.
Site-to-Site With Cloud
A business is headquartered in the United States in Richmond, Virginia. Due to demand, the company has also opened another branch in California, and one in the United Kingdom — with plans to expand even more over the next five years.
To keep operations running smoothly, all of the new offices need to be able to communicate with each other and transfer data back and forth. However, despite having several offices there are only a handful of employees at each, and there is currently only one IT employee who handles everything from performing password resets to vetting and selecting network security solutions.
To prevent himself from being spread too thin, he is looking for a VPN solution that does not require him to manage, install, or maintain VPN servers — and that allows him to create a hosted VPN that can be accessed from regional locations worldwide. For that reason, he signs up to use OpenVPN Cloud. His primary goal is to establish site-to-site networking between the private networks in each office location. He wants full-mesh connectivity so that each location can communicate with the others.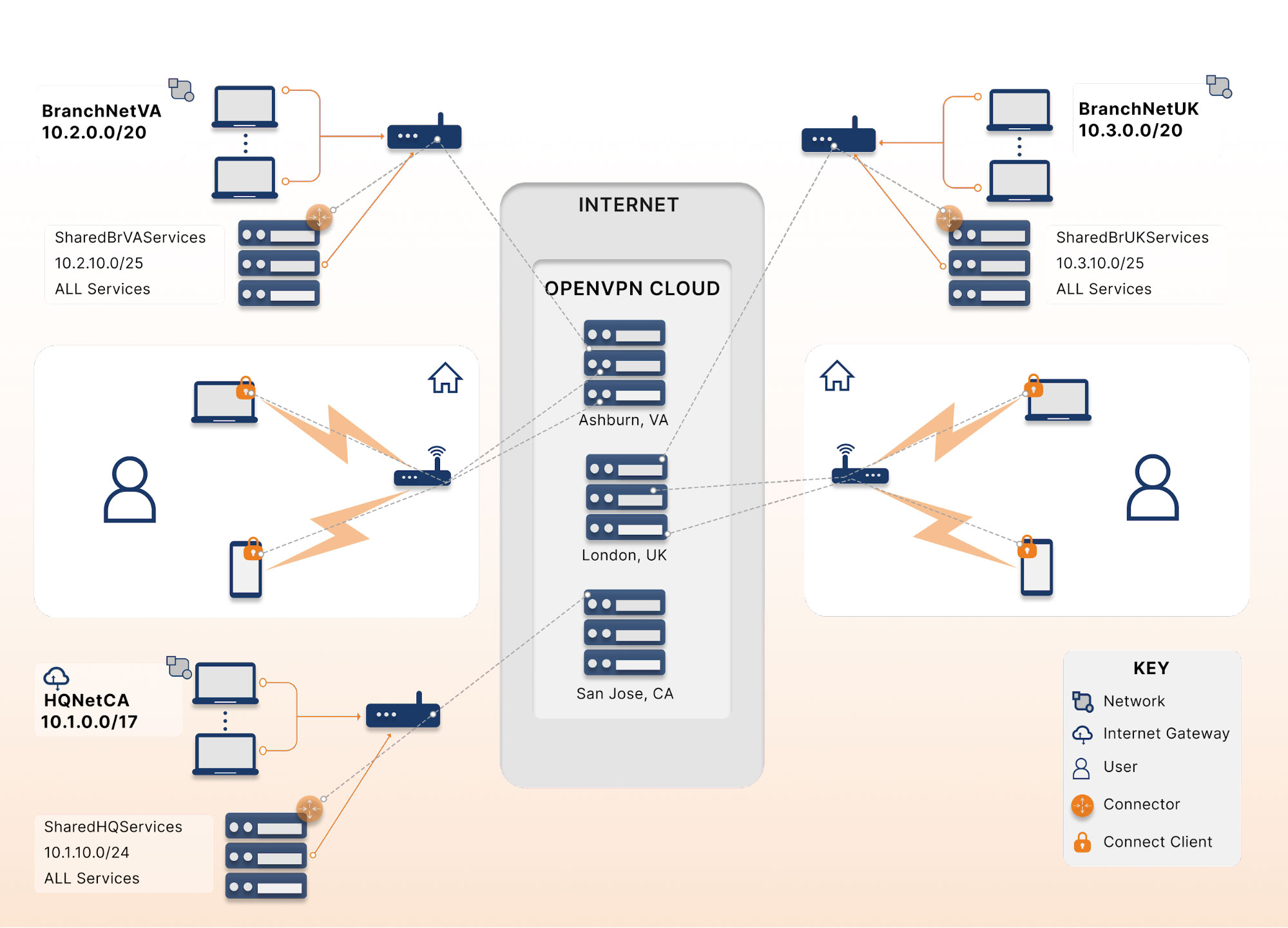 Keeping Your Locations Connected
To get started, he signed up for OpenVPN Cloud. During the signup process, he defined a name for the VPN, such as hisbusiness.openvpn.cloud, as the web domain for the user portal.
He plans the connectivity, and once the planning is done, he implements by following these steps:
Logs into the OpenVPN Cloud administration portal
Configures the HQ network for Richmond, VA with Ashburn, VA as the VPN Region for it to connect with.
Sets up another network for the U.K. branch with London as the VPN Region for it to connect with.
Checks that the access is set to full mesh
Installs Connector software at HQ and the branch
Configures the network routes at each of the sites
For step-by-step instructions and detailed walkthroughs, take a look at our user guide for Site-to-Site Private Connectivity
Not looking for full-mesh? No problem! OpenVPN Cloud also supports granular access. You can easily define network resources and services accessible for a granular access control configuration.
Ready to get started? OpenVPN Cloud is free on 3 concurrent connections so you can test it out and get a feel for it.