Leveraging Cloud for Secure Internet Access
A lot of employees crave the perk of working from home. It isn't always possible — many jobs simply can't be done remotely. But there are a lot of positions that can be done from home, from call-center agents to web designers. Any job that is primarily computer-centric and doesn't require employees to be customer-facing can most likely be shifted easily and affordably to a remote model. So despite so many positions being good candidates for remote work, why do many small-to-medium-sized businesses shy away from it?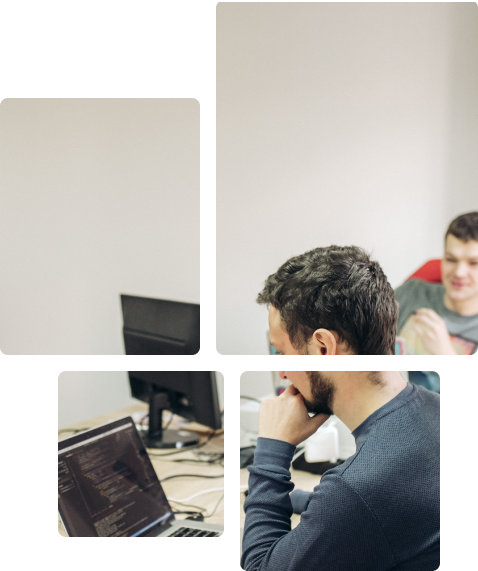 One reason could be due to company culture. If the workplace culture has (for instance) always depended heavily on visual management and accountability, leadership might not be comfortable relinquishing line-of-sight control. Another reason might be that those in decision making positions don't recognize how the benefit to the employees positively impacts the bottom line.
But one of the biggest reasons we hear is typically about security concerns. How can businesses ensure that company devices are protected away from the office, and sensitive data stays secure?
Short answer: A VPN.
Many SMB leaders are operating under the faulty assumption that offering remote work is complicated and expensive — which is simply not the case. With the simple introduction of a VPN, remote work can be accomplished easily and affordably.
VPN Doesn't Have to Be a Headache
You have probably heard people say:
"My business just isn't large enough to support a VPN, either financially or technically."
"VPNs require so much time and attention, I could never justify introducing one."
"VPNs are way too expensive to set up and maintain — we just aren't there yet."
But that doesn't have to be the case.
Sure, VPNs, in the traditional sense, can be challenging for small businesses. Setting up, configuring, and managing servers can be pricey and time-consuming. And if you don't have a tech expert on staff, that just adds a whole other level of complexity to the situation.
But what if there was a business VPN that didn't require you to deal with servers — at all?
Here at OpenVPN, we are pleased to report that we have just that VPN. Cloud Connexa is a remote access and security solution that eliminates server installation and maintenance completely. We handle all of the server hassles for you, so all you have to do is sign up and get your team connected.
With Cloud Connexa you can be confident that your employees have secure internet access from wherever they happen to be working — even if that happens to be far away from the office.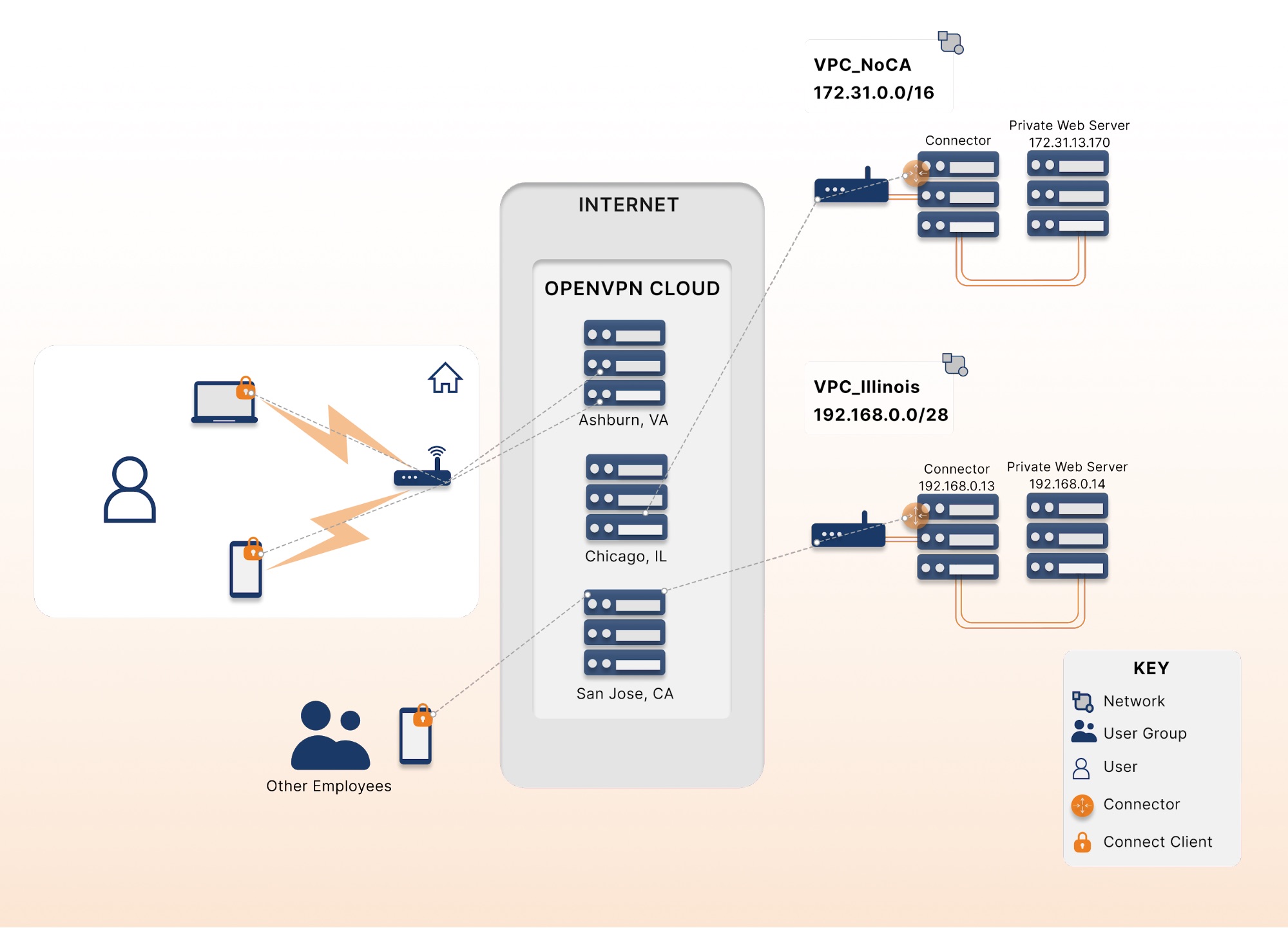 How CloudConnexa Helps Businesses Change Things Up
Consider a family-owned construction company located in Virginia. For their first decade of operation, they only serviced the Northern VA area. But a few years ago, demand increased for their competitive prices and top-notch quality. They expanded into more locations, and into Illinois and California. Each location has about a dozen project managers and laborers, and an office administrator who answers calls and schedules appointments using internet-based tools. The admins are completely desk-bound in the office locations — but the same is not true for the field employees. The project managers and laborers spend the vast majority of their time on the road, at the warehouses, and at client properties. The only reason they go to the office is to quickly update files on the company's internet-based record-keeping system.
The company executives were looking for ways to cut overhead costs and realized that the current office set up was draining resources. Because the project managers and laborers were infrequently at the office, the company was essentially paying for an entire office space for just one admin. On top of that, because the field employees could only update files from the office, it wasted a lot of time as they went back and forth from worksites to the office, and was costing a lot in gas. The winning solution was not to renew any of their office leases and have everyone work remotely instead.
With everyone officially switching to a remote work model, the IT manager got to work figuring out how to provide secure internet access. With the company wanting to cut costs, he knew he would have to find an affordable solution that wouldn't require him to hire any additional staff to maintain it. He decided to utilize the OpenVPN hosted service, Cloud Connexa. Because OpenVPN hosts, manages, and maintains all the servers, the company won't have to invest in that or hire anyone else to help operate it. OpenVPN does all the heavy lifting, so all the IT manager has to do is add users and configure everything to provide secure internet access.
Getting Secure Internet Access
Complete the signup process, and during the process, define a name for your VPN, such as yourbusiness.openvpn.cloud, as the web domain for the user portal. This domain uniquely identifies your VPN network and is used by Connect Client applications (VPN Client software).
He followed the steps shown below to set up his VPN to accept traffic to the Internet and route it to the Internet via a Network configured as VPN Egress, which is the internet access point within your private Cloud Connexa network:
Configure a Network to act as VPN Egress.
How to add a Network and Adding VPN Egress
Run a server to install the Connector and act as the Internet Gateway.
See the chapter "HQ Network Being Used as VPN Egress Route" of: Connecting Networks to Cloud Connexa Using Connectors.
After the Network comes online, change the Internet Access setting for User Groups to Split Tunnel OFF.
Changing User Group's Internet Access
Connect to Cloud Connexa
Connecting to Cloud Connexa
On connection, check that the public IP address of the device running the Connect Client and connected to Cloud Connexa is the same as the public IP address of the Connector instance.
Add employees as Users using their email addresses. From there the users download the app, import a profile, connect to the VPN, and now have secure Internet Access.
Adding a User
Get started for free with three connections. No credit card required.