OpenVPN Solutions
Secure Internet Access
Modern businesses need to provide secure internet access for their teams no matter where they're working, what devices they're using, or what type of networks they use to connect to the internet.
Challenges
Your workforce needs to connect from anywhere. This helps your business improve productivity and expands your pool of candidates across the globe. But how can you ensure that your users who are on the go, using public networks to connect to SaaS apps and websites with sensitive information, can have secure internet access?
Rogue Wi-Fi Networks
Remote users may attempt to connect to the internet using public networks with unknown security, such as rogue networks masquerading as valid airport Wi-Fi access points.
DNS hijacking
When DNS queries are deliberately resolved incorrectly, redirection attacks can occur and users are unknowingly sent to malicious websites.
Enforcing corporate security policies
You need to apply corporate security policies consistently for all employees. The users connecting from remote locations present additional challenges.
Blocking malicious sites
No matter where or how your workforce connects to the internet, there are risks of malware attacks or getting caught by phishing sites.
Cloud Connexa provides industry-grade DNS security and control over your user internet access routes. Cloud Connexa offers affordability and ease of use that gives businesses of all sizes the ability to manage their secure, encrypted, and reliable network.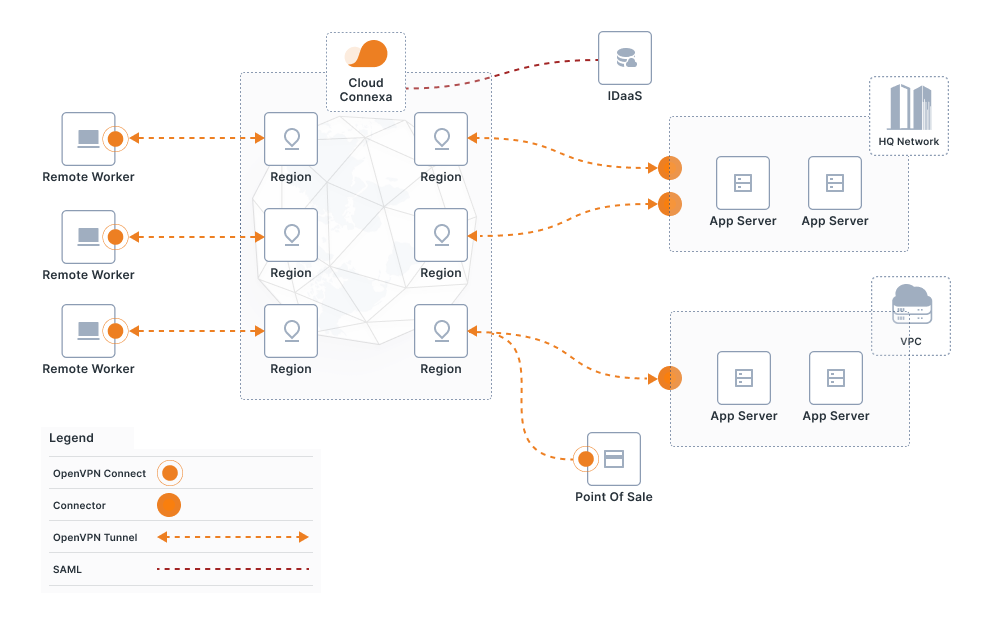 You can use the Cloud Connexa administration portal to configure a secure internet access network to act as a VPN egress. With the ability to set any of your networks as such, you can set the corporate network as the egress point and enforce corporate policies.
You can turn off split tunneling, which forces all traffic through the VPN, ensuring security and encryption is applied to all of your organization's data communications. Cloud Connexa can also be configured for tunneling traffic to specific domains with split-tunneling switched ON.
You can use Cyber Shield, a built-in feature of Cloud Connexa, for continuous DNS monitoring and filtering. Use Cyber Shield to analyze DNS traffic, flag domains categorized as undesirable, and even disallow certain domains by category to block malware and phishing websites. Rather than relying on post-event, log-based reporting mechanisms, you can protect your Internet access in real-time.
Results
Encrypted internet traffic
DNS security
DNS-based content filtering
Enforced corporate policies
Connect to Cloud Connexa with three free concurrent connections.
Every business understands the need for making internet security a high priority. The affordability and scalability of Access Server gives businesses of all sizes the ability to launch a VPN server and provide security, encryption, and reliability.

When remote employees connect from their home networks, unsecured public Wi-Fi, or other networks outside your ability to secure, all they need is a VPN connection. Once their client authenticates, their encrypted traffic can flow privately through the VPN tunnel. This can be set up quickly in the Admin Web UI by turning split-tunneling off and routing all client internet traffic through the VPN. Access Server can also be configured for tunneling traffic to specific IP address ranges with split-tunneling switched ON.
For clients connected to the VPN, an Access Server administrator can choose to push DNS servers to clients, protecting against the threat of DNS hijacking. Instead, clients will use the same DNS servers as the Access Server or can be directed to specifically defined servers, which is easily configured in the Admin Web UI.
As well as securing internet packets and DNS requests, you can provide additional security layers by routing all traffic — both private and public — through the corporate headquarters where you can enforce corporate security policies. That way, you can add content filtering, web filtering, anti-malware, and other protections provided by on-premise unified threat management.
Results
Encrypted internet traffic
DNS security
Enforced corporate policies
Deploy a fully-featured business VPN Solution with two free connections.
Available for Red Hat Enterprise Linux, CentOS, Ubuntu, or Debian directly from our official repository. Download as a virtual appliance, or launch from a public cloud provider like
AWS
.