User Management: Revoke Certificates
About the Page
User Management: Revoke Certificates gives you the ability to revoke certification of specific users. It provides a table of all users with VPN client certificates. You can also revoke certificates using the command line of your server. To see more information, read Revoke a user's certificate/connection profile section in the Create connection profiles and Connect Client installers guide.
Revoke Certificates page: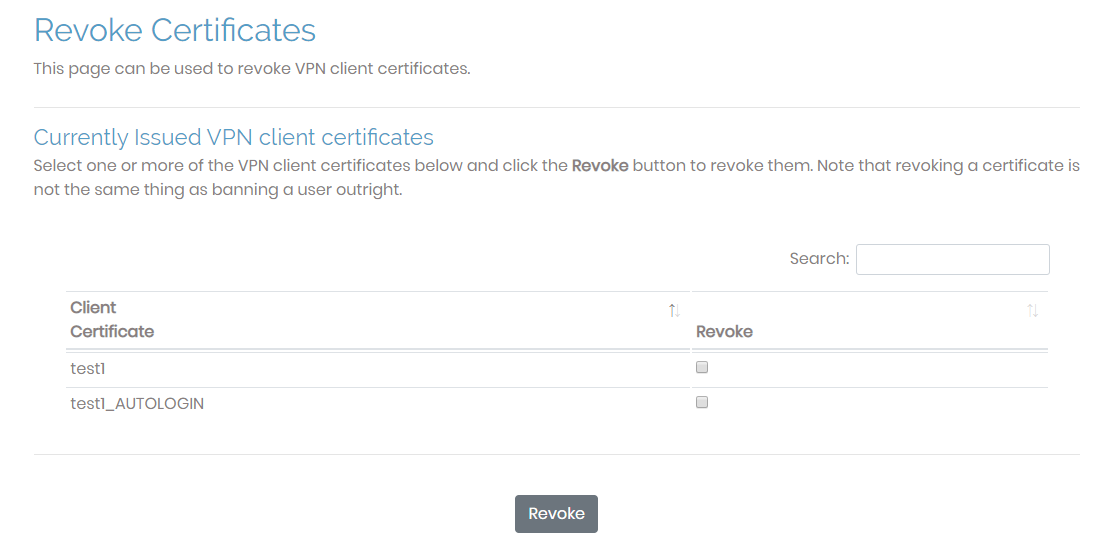 Revoking Certificates
This pages makes revoking user certification extremely simple. Click on the Revoke box on each row for users whom you wish to revoke.
You can choose to filter users from the table by inputting text to the search bar.

Press the Revoke button to revoke the certificates from selected users.

NOTE: This is not the same as banning the user from your servers; it simply means that they must be certified again if they wish to access the server. If you wish to outright ban a user, you must block them in the Status: Current Users page or deny them access in either the User Permissions page or Group Permissions page.
Summary
User Management: Revoke Certificates allows you to revoke users' certifications simply and easily.