Access Server Admin Web UI First Login
About the page
Once you've completed the installation of OpenVPN Access Server you can now connect to the Access Server Admin Web UI. The following information shows you how to access the Admin Web UI and add new users and admins.
If you have not yet installed Access Server, see the Access Server Installation options page for more information.
---
Admin Web UI Address and Login Credentials
---
After your Access Server installation, an output message displays with the following information for your VPN server:
The password for the openvpn administrative user.
The URL for the Admin Web UI.
The URL for the Client Web UI.
Note: The URLs depend on the IP address of your server. After initial configuration we recommend setting up a DNS hostname for your server and configuring this as the host name in the Network Settings section.
Alternatively, you can find the password and URL information in the file /usr/local/openvpn_as/init.log.
Note: Access Server versions older than 2.10 do not automatically generate a password. On older versions you set the password manually by typing passwd openvpn on the command line.
Sign into the Admin Web UI
Open a web browser and enter the address for the Admin Web UI. You will receive a warning about navigating to an unsecured network due to the self-signed certificate. (We recommend setting up your own SSL for security.) Accept to continue. At the login page, input the required information:
Username: openvpn
Password: password created during installation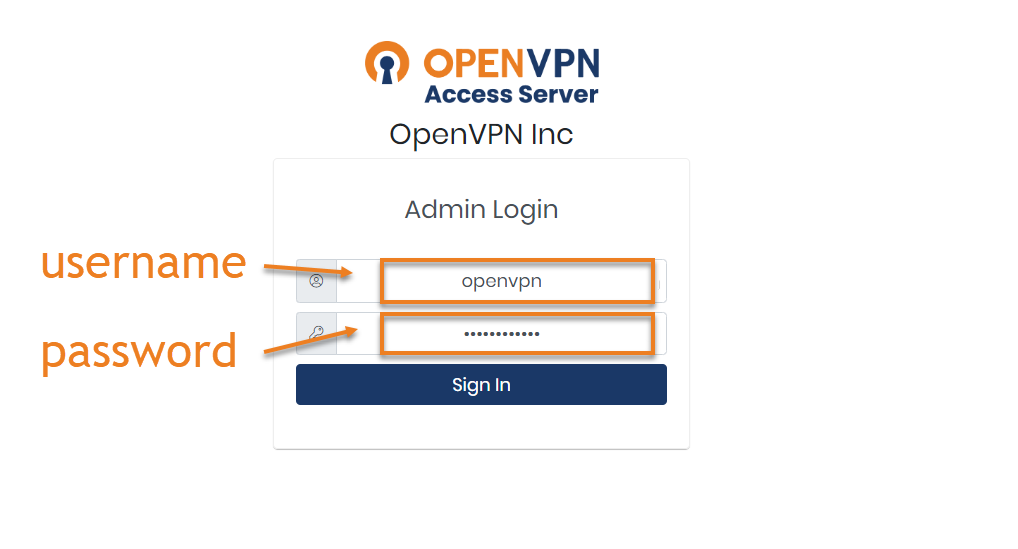 Review the OpenVPN Access Server End User License Agreement.
After signing in, the Admin Web UI displays the Activation page with the first login. After that, you start on the Status Overview page.
If instead you see download options for the VPN client OpenVPN Connect click on Admin to go to the Admin Web UI sign-on page. The download page is the Client Web UI.
If you can't access the Admin Web UI, refer to Troubleshooting Access to the Web Interface.
Update your administrative account password
We recommend you change the automatically generated password.
How to change the openvpn account password:
Click User Management.
Click User Permissions.
Click the More Settings icon next to the openvpn user.
Enter the new password in Local Password.
Click Save Settings and Update Running Server.
Add New Users and Administrators
Now you can add normal users and additional administrative accounts.
How to add a new administrative account:
Click User Management.
Click User Permissions.
Enter the New Username.
Click the Admin checkbox.
Click on the More Settings icon.
In Local Password, enter the new user password.
Click Save Settings and Update Running Server to finalize all your changes.
To add a normal user follow the steps above without checking the Admin box.